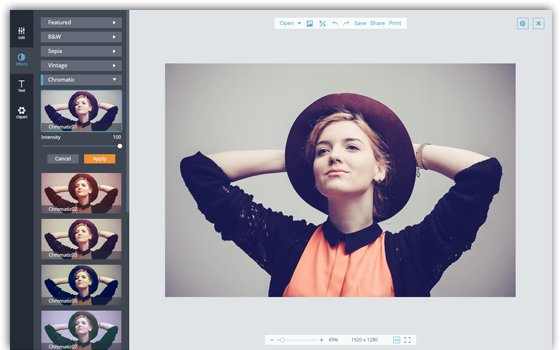 Free Online Photo Editor
Your best choice of photo editing!
FotoJet is the handiest photo editor online! It covers all needs for photo editing. With the basic image editing options, you can quickly adjust your photo's size, color, light etc. In the meanwhile, play around the photo effects, frames, text, overlays and clipart images, which will lead to a more creative result. In a word, editing photos with FotoJet is a simple but inspiring work for anyone now.
GET STARTED
Edit Photos with Ease and Fun!
You can edit photos by using the basic options such as crop, resize, rotate and straighten; you also can try advanced features such as sharpen, dehaze, vignette, radial & tilt shift. What's more, you can add photo effects, photo frames, text overlays and clipart. Which will light up your photos immediately.

Sometimes, you have to resize images for some uses, such as printing or sharing via social media. Our image resizer will handle all of your resizing needs.

The auto-enhance feature will adjust the exposure, color and so on for your photos automatically. You can enhance your photos in only a single click with our photo enhancer.

Color splash makes your photos black and white at first, then you can brush color back to the specific objects. The only accent of your photo is on the colorful object, and it is the charm of color splash.

Photo overlays can make your photos more creative. Convey your love with a cute hear overlay, or show your art talent with an artistic paint overlay. With simple clicks, you can create any fancy effects for your photos.

Except for basic edits, FotoJet's photo editor also got you some wonderful features, such as radial blur & tilt shift. It is the perfect balance between sharpness and blurring.

Applying photo effects may be the easiest way to make your photos great. Find the perfect effect for your photo from the vintage effects, black and white effects, lomo effects and so on.

Let your photos "speak" by adding text to them. Design a watermark or convey your messages; our text editor has everything you could ever want.

Vignette a photo by covering the rounded edges with shadows. With our powerful image editor, you can change the colors of the shadows at will, which gives you the capability to design your own lomo effects.

FotoJet's picture editor not only allows you to rotate your photos clockwise or vertically, but you can also adjust the pictures within little angles.

For creators, watermarks can keep their creation from unauthorized use. It has never been easier to create text watermarks with FotoJet's photo editor. Add text, adjust opacity, edit text effect and style and a watermark is done!

With FotoJet's wallpaper maker, you can create custom wallpapers for desktop or phone. Whenever you are fond of a photo or picture online, customize it to the right size of wallpaper for your pc or phone.

Photo frames will turn your photos up a notch. FotoJet photo editor has a wide range of photo borders, Polaroid frames etc. Choose a frame and click apply, you will get a stylish photo easily.

With our photo cropper, you can cut the mess and redundant parts of your photos in your favorite photo ratio.

There is a wide range of clipart images in FotoJet, including heart, birthday, food, etc. Adding clipart to your photos is a great way to convey your feelings.
The Perfect and Free Photo Editor for You!
Photo editing is no longer a lengthy, hard work. With FotoJet's online photo editor, you can crop, resize and rotate, apply photo effects and add text, clipart images in simple clicks and your photo will be more than a scene you capture. Just edit your photos and make them real touching!