5 Ways to Get Graphic Design Inspiration
01. Take Notes Anytime

If you are working on a design project, you must have thought about it very carefully at the beginning. It is vital to take all your ideas down no matter how normal or slight they are. And it happens that a great idea comes to your mind suddenly when you are sitting in a café, looking around or listening to others unconsciously. When the moment comes, just take out a piece of paper or a phone or something else that can take notes on and write your ideas down. They may be creative graphic design inspiration someday.
02. Jump Out the Topics
Maybe you are asked to design a poster for your customer. The first thing you may do is to see how other designers design posters. That is ok and a good step to start. However, if you want to get some graphic design inspiration that are really special, try to see other design works too. Maybe when you see a newsletter, a picture of street, a sense of normal life, it will brainstorm your poster design ideas.
03. Think Back Frequently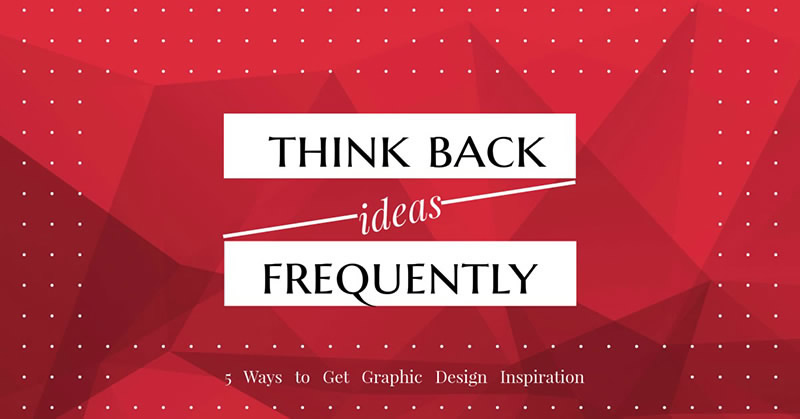 After the brainstorm of graphic design inspiration, just stop thinking of more ideas and relax you brain. And think back all the ideas having came to your mind, maybe there lies a good one. If you get stuck for inspiration, thinking back of original thoughts will help you open the door of new creativity.
04. Find Inspiration from Other Designers
We're living in internet world that can teach us everything, including graphic design. There are thousands of designers teaching every thing they know about design. Collect your favorite design blogs and websites to your bookmarks and read what they share often, you will find graphic design inspiration sinking in your mind.
05. Add Your Own Ideas

Imitating others' thoughts seems a easy and fast way to design things. however, a breathtaking design is always given the creator's soul. Get inspired by others doesn't mean that you don't need to think. Keep searing and thinking, you'll get endless graphic design inspiration.
Conclusion
A good idea is vital for a design and no idea can be seen if you don't start to create. Whenever you have a great idea, open your notebook or get a paper and pen or any design tool, to start to design.
Feel inspired now? Then begin to design with FotoJet now.
Start a Design Now
Try it for free, no download or registration required.
Get Started