Online Photo Frames
Matching your photos with custom frames online will turn your photos up a notch. Select from FotoJet's picture frames and decorate your photos at will.
What Can You Do With FotoJet's Photo Frames
Not only can frames give dramatic effects but they can also add some character to your photos. You can apply photo frames directly in FotoJet without spending time to design frames yourself. Basing on these preset frame layouts, you can create custom photo frames with simple adjustments.
Photo Borders
The most classic photo frames must be the borders. Click "Border" list, then a preset photo border will be applied to your photo. Adjust the "Thickness" slider to control the width; choose the colors of the outer and inner borders. "Corner Radius" is for the corner roundness of inner border; using the "Caption Space" properly to create a custom Polaroid frame. In a word, combining your creativity with the photo borders, you will create awesome frames.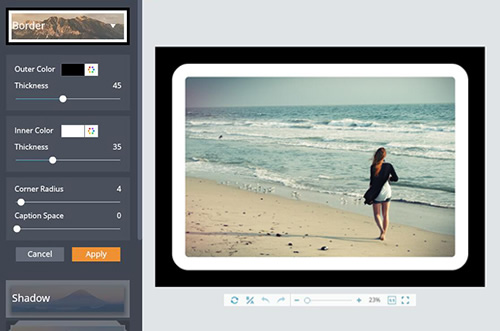 Polaroid Frames
With FotoJet's picture frames, you don't need a Polaroid camera or doing complex steps in Photoshop to create Polaroid frames. Just add a frame to your photo directly in FotoJet to add a vintage style to your photo. Find the favorite instant frame template, adjust the "Thickness" to control the width. Do not forget to click "Apply" when you are satisfied with the result!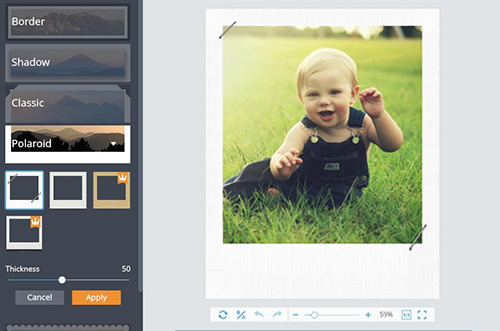 Film Frames
Film frames are always favoured when concerned to image frames. You can easily make your images look like film strips by adding film frames to them. Pick a film frame from the list and apply it to your image to give it an art vintage look. Make some simple adjustments to the frames to give them a personal touch.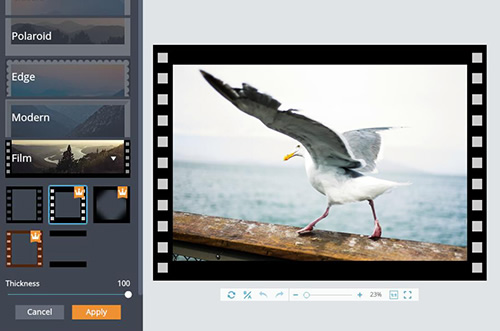 Grunge Frames
Give your photo a grunge personality by adding a grunge frame to it. Choose a frame and adjust the width until it looks best for you. Click apply and you will get a stretched and torn style photo. Do not forget try other photo frames on the list, you'll find a lot of inspiration to make your photos art.