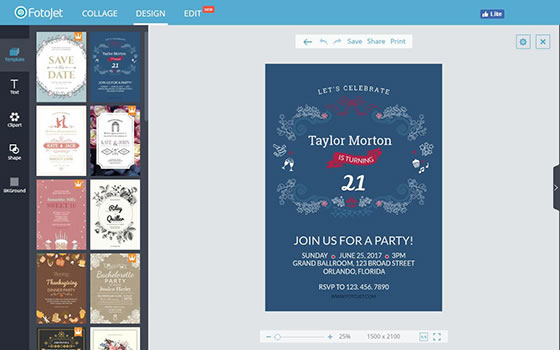 Invitation Maker
Make custom invitations online!
Personalize your invitation cards using FotoJet's invitation maker. With plenty of free invitation templates to choose, complete with hundreds of clipart images and art fonts, you can easily create custom invitation cards. Choose a template, add your photos and edit freely to get your invitation design.
GET STARTED
Popular Invitation Templates and Samples
FotoJet's invitation card maker offers lots of invitation templates, you can create birthday invitations, baby shower invitations, graduation invitations, party invitations and so on easily and quickly combining your own creativity and events.
What Can You Do With FotoJet Invitation Maker

It's easy and fun to unleash your creativity with FotoJet. The invitation maker will help you make awesome invitation cards in seconds. You can turn any invitation templates into your own designs. Start designing now!
Create Custom Invitations Online in 3 Steps


Choose a Template
Choose from dozens of invitation templates to start.


Edit
Add photos and customize your invitation freely.


Save/Share
Save your invitation as image or share it online via social media.