How to Make a Flower Collage
A flower collage could be any kind of collage that captures the beauties in your life, like paper flower collage and photo flower collage. Have you ever wanted to know how to make a flower collage? Did you try to collage plenty of photos in Photoshop or other professional photo editor and just found that it spends so much time and is complex? Or you just want to design an artistic flower-themed collage with ease?
No matter you want to make a flower photo collage or design a flower-themed collage, FotoJet is always getting what you need. The flower collage maker not only allows you to make some incredible collages online, but also to design and create your own unique art collages with the collage templates, complete with hundreds of clipart images and art text samples.
How to make a classic flower collage with FotoJet
1. Choose layout
Simply collage photos and choose a layout according to the numbers of your photos.
2. Add photos from computer or Facebook account
Adjust the Ratio, Border Width and Corner Rounding after add your photos. And explore the text, clipart, background panels to make your collage until you are satisfied.
3. Save/Print/Share
Once the flower collage is done, you could choose to save, print and share it.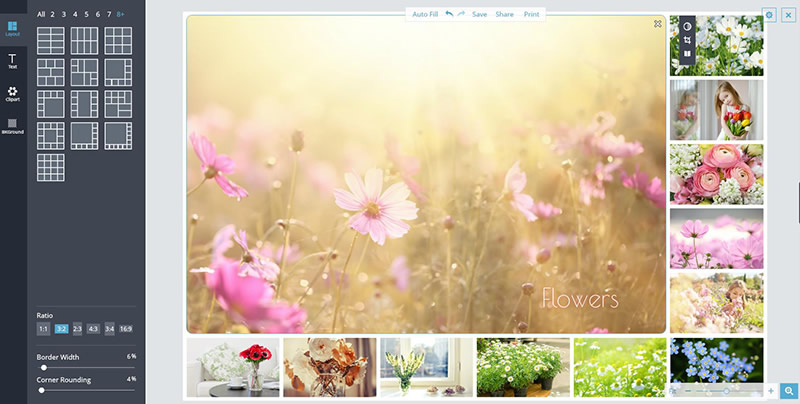 How to make a creative flower collage with FotoJet
1. Choose a template
Hundreds of art collage templates could be chosen from, just pick one you like.
2. Add your photos and edit freely
Add your photos according your collage theme, for example: flower collage. Then it's your turn to showcase your ideas to create your own arts.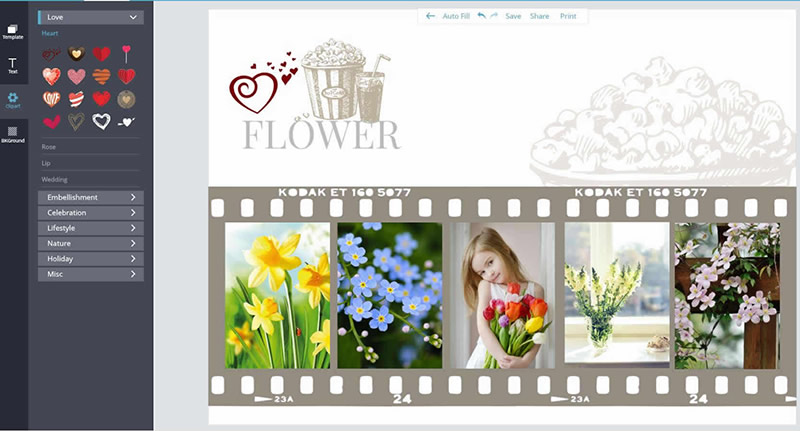 3. Save/Print/Share
Flower collage ideas
It's easy to learn how to make a flower collage and make collages with your photos on FotoJet. But it is always better to get your own flower collage ideas to create your arts.
One idea is to collage photos in the shape of flower, though the photos completely have nothing to do with flowers.
And one more idea is not to forget people. Sometimes a picture could be amazing because of the people captured in the photo. Choose photos of people who are smiling, dancing, thinking etc, add flower clipart images and text, to get your own flower photo collages.
Ideas are endless, can't wait to see what your inspirations. Show them on FotoJet!
Make a Flower Collage with Your Own Photos Now
Try it for free, no download or registration required.
Get Started