How to Make a Birthday Collage
Want to gift a beautiful photo collage to your loved one on her birthday but don't have an idea of where to start? Don't worry! I'll show you some simple tips of how to make a birthday collage with a free online birthday collage maker in this article.
FotoJet is what I'm going to suggest to you. It is an easy to use collage maker tool where you can create awesome, creative, cool birthday collages with little effort. You certainly don't need to have many skills of photography or computer tech. It's all about designs with your own photos. The results would be endless while the only limit is your imagination. Now click GET STARTED and follow the tutorial to make your own birthday collage creations for free.
Quick CREATIVE mode
Instead of showing you how to make a birthday collage under the CREATIVE mode, I'll show you how to make a birthday collage under CLASSIC mode today since I just wrote an article about how to make a birthday card online under CREATIVE mode a few days ago. You can still check the article now.
CLASSIC mode - brings you endless funs
Step 1: Choose and customize birthday collage layout
Once you entered the CLASSIC mode, you will see various layouts displayed at the left layout list. You can go through them or sorted by number to choose one for your use. If you think none of the layouts can meet your needs, customize it to fit your needs.
Don't want this grid? Move your mouse pointer onto the grid and click the cross to delete it.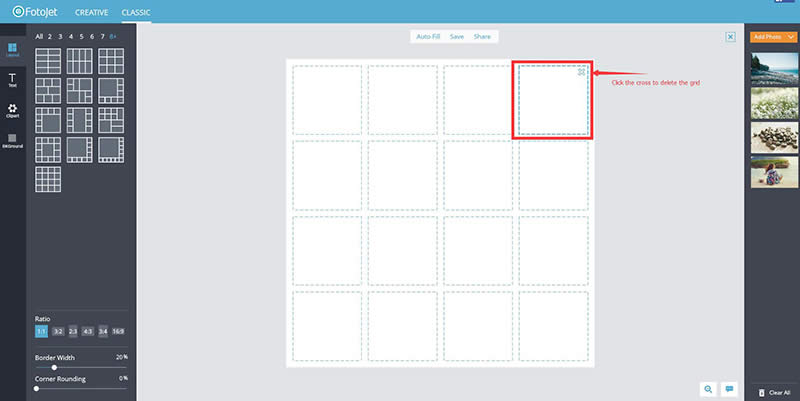 Want to add more grids to a specific place in the layout? Drag a photo and drop it between two grids where you want to add a grid. When a solid blue line and a little cute green "+" appear, put the photo to the place and the grid will be added.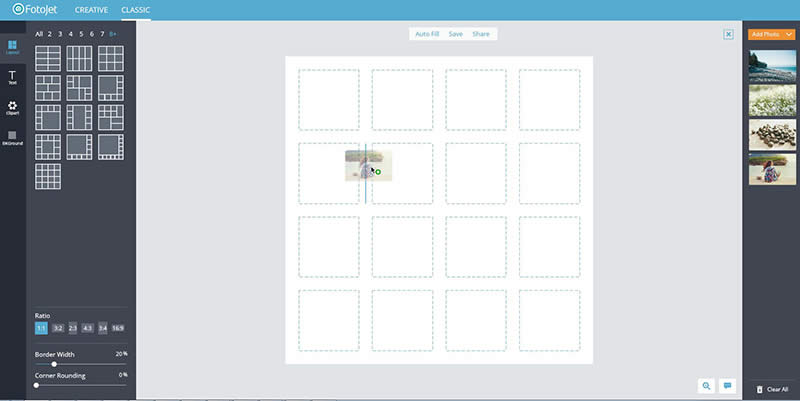 Step 2: Add your own photos
Here 4 preset photos are displayed in the photo list. To make your birthday collage unique, compile your collage with photos from your own stock photo library. Once personal photos are added into the photo list from Computer or Facebook, drag and place them into any grid or frame you want. Wondering how to make a birthday collage special? Make a specific shape collage by leaving some grids empty. FotoJet enables you to adjust the border width and corner rounding by simply dragging and moving the corresponding sliding bar.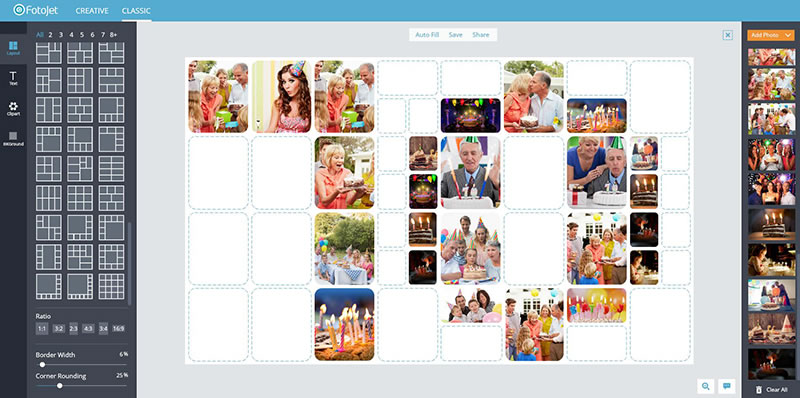 Step 3: Consider more decoration
According to your design, decide whether to decorate it with text, clipart, background or not. Here in this birthday collage, I say "happy birthday" and set the collage background with a tidy pattern image.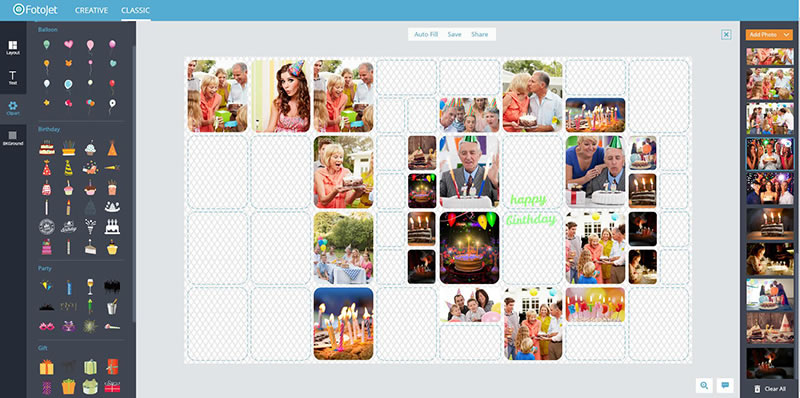 Step 4: Gift the birthday collage
Enjoy your creation and think it is great? Then click the Save button to save it and share it with the one you want to. It's also possible for you to directly share it on your Facebook by clicking the Share option.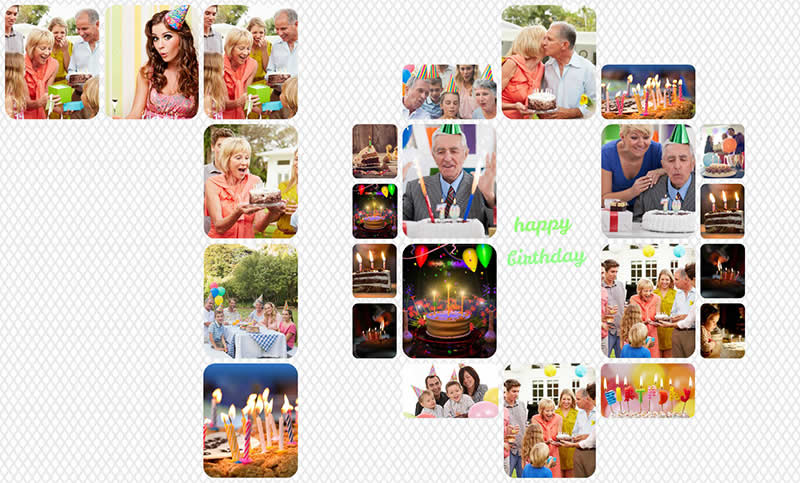 Be inspired? Know better of how to make a birthday collage? Think it's a real fun to use FotoJet? Then what are you waiting for? Start to make a birthday collage for your loved ones now!