How to Make a Birthday Card Online
Birthday happens only once a year, so why not make the birthday of a friend or loved one meaningful and unforgettable? Making a birthday card may present a perfect birthday day to the recipient. Follow these tips to know how to make a birthday card online with the easy four steps.
Step 1: Find a Birthday Card Idea
Think about whom will be the recipient. Is the birthday card for your dad, mom, girl friend, fiancée, boy friend, or any other relative? Collect their life photos they just cherished to combine them into the birthday card. Then you can come up with an idea of the type of the birthday card. It could be serious and sophisticated or funny and goofy.
If you don't have any idea about birthday card designs, check these birthday card samples to be inspired. And you will find an idea from these marvelous birthday card designs. Then just make a birthday card following your idea.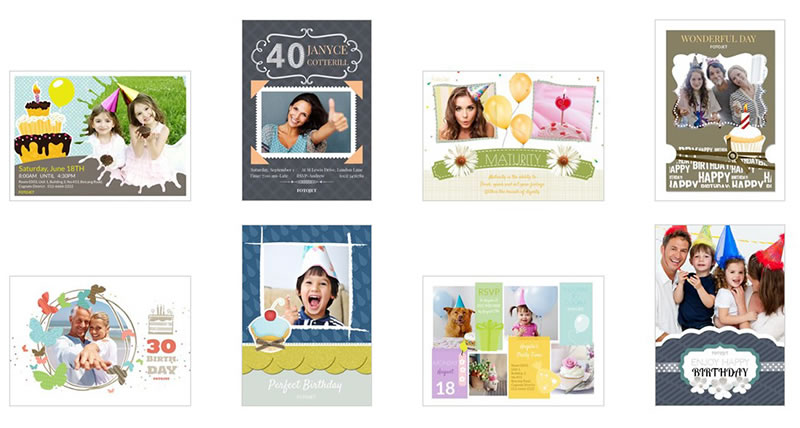 Step 2: Pick an Online Birthday Card Maker
There are many birthday card makers you can find by Google search. But many of them are paid services. If you want a free online birthday card maker, pick FotoJet, which will help you make a birthday card incorporating text, clip art and images for free. Since you have already had the card design idea in mind, let's show you how to make a birthday card online from scratch in FotoJet.
Step 3: Draw Your Birthday Card on Canvas
Open www.fotojet.com. Click GET STARTED button under Creative mode or Classic mode to open a blank template or layout to start your design. Here I'd love to choose one of the templates to custom my own card. Since I choose a template, I'll show you how to make a birthday card unequal with personal touches. First upload the personal photos into the card from computer.
Then, combine text and clipart into the birthday card. Once you add your birthday wishes, adjust the text font, size, color, position, etc. to the perfect. To make it more attractive, put some clipart into the card. Clipart can be also moved, resized and layer-adjusted as required -- you can add some suitable clipart such as balloons, cakes, candles to decorate your birthday card. If you want, set a proper background to the card.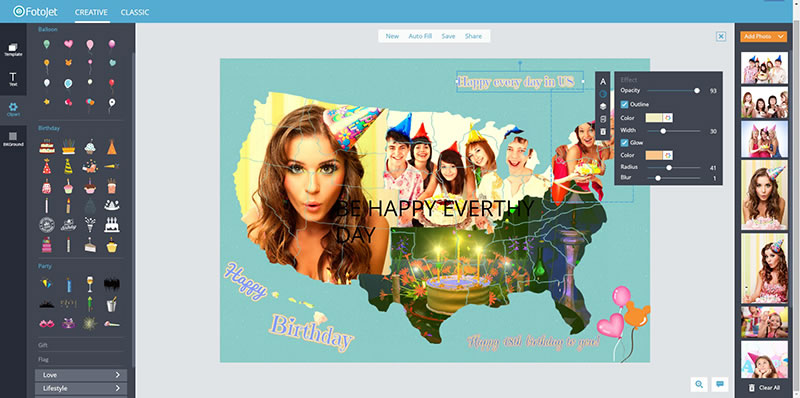 Step 4: Preview and Save Your Card
The final step is preview and save your card. Click Save button to choose the image file (PNG/ JPG) you want to save. Decide the final quality and size of the image you wish to save it to your computer. Alternatively, you can share the birthday card to your Facebook directly by clicking the Share button.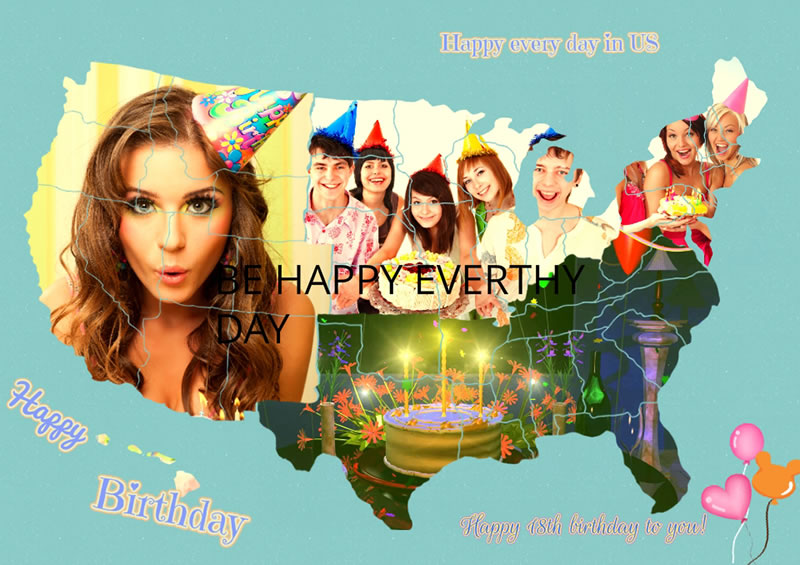 Making a birthday card may take a little time and need a little thought and bit of effort, however, it will be meaningful and unforgettable for your friend or loved one when they receive it. It will make them smile. So why not take a little time to see how to make a birthday card online and send your loved one the best birthday wishes on a personalized birthday card? They will be moved and cherish it forever.
Make a Birthday Card Online Now
Try it for free, no download or registration required.
Get Started