What is a Collage and the Creative Collage Ideas You Need to Know
Before you get started on creating a photo collage, you need to understand what is a collage? Originating from the French word coller, which means to glue, a collage is a form of art that is done by gluing various things together like magazine, newspaper cuttings, ribbons, bits of colored paper, portion of artworks, photograph and many other forms of materials.
Coming to the 21st Century, digital photo collages have become increasingly popular with more and more collage software and tools showing up. The traditional collage artwork has expanded to include works created using digital media. According to Wikipedia, a digital collage is the technique of using computer tools in collage creation to encourage chance associations of disparate visual elements and the subsequent transformation of the visual results through the use of electronic media.
Specifically, the use of techniques helps you include multiple of your digital photos into a big one, decorating with various objects and show with your friends & family whenever you're in the mood to recall those amazing moments you once captured. In this age of digital photos and photo software, a photo collage can be made up of any theme according to your imagination. Here you will find many great collage ideas for your digital photos.
Photo Collage Gift Ideas for Various Occasions
A photo collage makes a unique, personal and meaningful gift, bringing sweet memories to magic life in one custom display. No matter for Birthdays, Anniversaries, Weddings, or other special moments in life, you can make a photo collage gift with your personal touch for the ones you love.
Stylish Poster Ideas with Your Own Photos
There are some times you wanted to show your own photos onto a stylish poster and then hang on your room walls. A collage with a single photo of yours is the easiest way to achieve that. You can also unleash your creativity to design a professionally look poster for concert, big sale, movie and more. A simple collage tool can help you to do this.
Facebook Cover Photos
You may wonder how could a photo collage be used as a Facebook cover photo. In fact, it's achievable with a photo collage tool that comes with various Facebook cover templates for you. The default size of all templates is 851*315 pixel, which is the exactly proper size for uploading as a Facebook cover.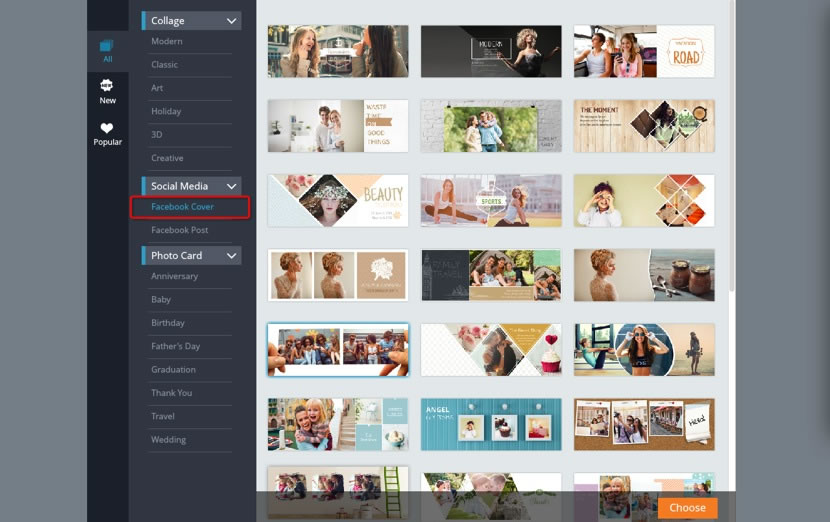 Above all, photo collages are also great way to show your fun vacation, highlight your family memory or record your baby's growth in a scrapbook. By understanding what is a collage the creatve collage ideas introduced in this article, you will be able to organize your digital photos in some special ways.
Make a Collage Online Now
Try it for free, no download or registration required.
Get Started