Make Facebook Cover to Personalize your Facebook Account
How to Make Facebook Cover Properly
Did you ever make Facebook cover carefully to match your Facebook account? Or you are the one who just uploaded a picture and threw it away? How could people remember something when there is nothing impressive? Facebook cover is not only a picture in fixed size. It is something that can help people to know you in a short time. So it is important to make Facebook cover properly.
Facebook cover can represent your style, your hobbies, your skills etc. In other words, it can represent you! If you are on business, it can help people to know your products, your brand and your company. As eyes are the windows of heart, Facebook cover can be the window of what you want to display on Facebook.
Therefore, a beautiful and unique "window" is necessary. As mentioned, Facebook cover is a picture in fixed size, how could we find the picture in proper size? Let me tell you, one of the Facebook cover ideas is to use a Facebook cover creator to design a beautiful and proper cover.
So, let FotoJet solve the problem for you. The Facebook cover creator will help you edit an awesome cover. As an online photo collage maker, FotoJet can help people make collages, cards, posters and covers in a simple way.
If you're in a rush, no worries! With its hundreds of templates, FotoJet can get you a collage you want in several minutes. If you are feeling creative, you can design a personalized collage just displays what is in your mind.
Make Facebook Cover on FotoJet
We know now that we can make a cover with a Facebook cover creator, so let us check out how to do it on FotoJet.
Click "GET STARTED" on its homepage, and then you will be taken to the template page. Find "Facebook Cover" in the left-hand category lists and choose a template you like.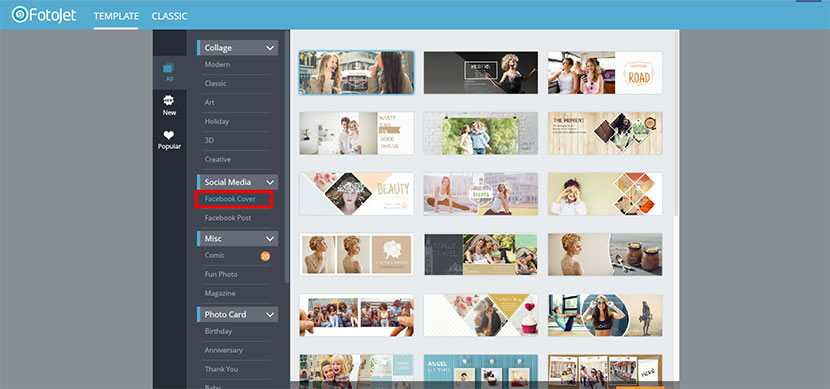 After you get your favorite template, then you will go on with editing page. It is one of the Facebook cover ideas to choose photos all about one theme you would like to tell on Facebook, such as fashion, health, music, etc. A specific theme is a key to make a proper cover that can speak out what you are going on with.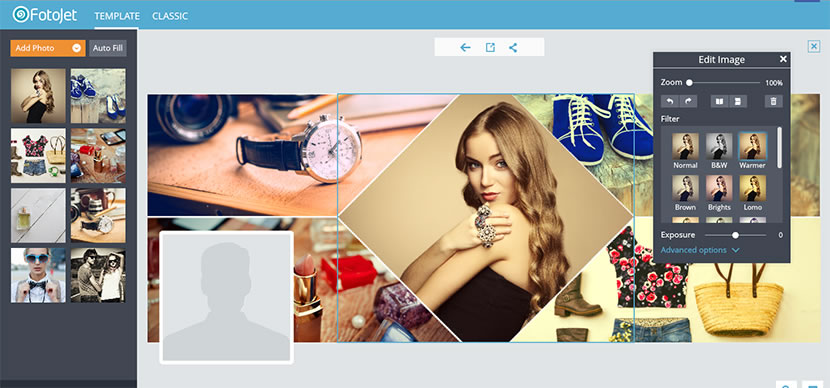 There you go! It is very easy to make Facebook cover on FotoJet, isn't it? You can save your creation locally or share it directly on Facebook. And do not forget to upload it to your account.
We are adding more options and templates, so check back to see what is new on FotoJet. Have fun with it now!

Design Your Own Facebook Covers for Free Now
Try it for free, no download or registration required.
Get Started