6 Best Free & Cost-Effective Graphic Design Software for Beginners
In this article, we've rounded up top 6 graphic design applications for beginners, most of which are free, and others are at a very reasonable price. Peeking into the best graphic design software collection, you will save substantial time in locating your graphic tool.
What's top graphic design software for a starter? What are the facets of a designer that we need to pay attention to when choosing?
Speaking of selecting out the best graphic design tools, most people will name the most expensive graphic designer online, or some graphic software with a big reputation, e.g. Photoshop, Illustrator, and what not. However, do those graphic design apps really help? We can't say so. The basic feature that we need is to design graphics in our mind. The more convenient & supportive, the better makes it a good choice. Expenditure or brand never guarantees anything practical. Therefore, to help you save some time, we've singled out top 6 graphic tools that perform well in different situations.
1.FotoJet Designer for Windows & Mac - Easier Design for Love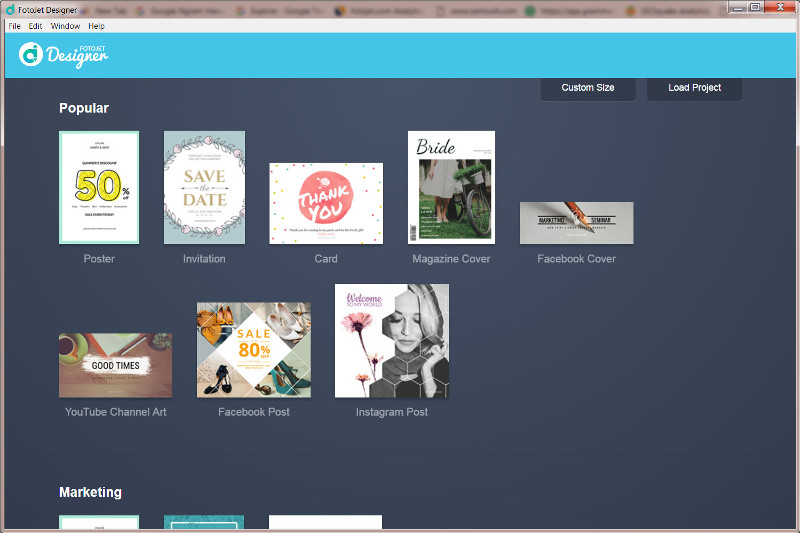 FotoJet Designer is a powerful yet easy graphic design software for beginners, which allows users to swiftly design with the help of its inbuilt samples. It provides a large number of ready-made templates, including instant YouTube banners, customized invitations, personalized cards, well-designed magazine covers, together with elaborate email headers. If you want to design for a Facebook post or other social media shares, you can also find the portal to these features in its panel. FotoJet designer, as a recommended graphic tool for desktop, gives users the maximal freedom to design well in a good mood.
Platform: Windows, Mac.
Reasons to Choose FotoJet Designer:
*Stunning graphic design output: 900+ stylish templates to modify and to save.
*Fluent & Visualized design by editing templates.
*100% user-friendly: suitable for any design novice as well as a professional.
*All-in-one design box: graphic texts, cliparts and background themes are all included.
*Directly share to social media including Facebook, Twitter, Pinterest & Tumblr.
*No learning curve: everybody knows how to use it without a tutorial.
*Layer management.
*Multi-language: English, Spanish, German, French, Portuguese and Japanese
*Free to try, Pro is at a cost-effective price.
Some Points to Improve:
*No support for Linux and mobile devices at the moment.
FotoJet Designer Free Download:
Mac version is available at: https://www.fotojet.com/mac/designer.html
Free download Windows version: https://www.fotojet.com/windows/designer.html
Rank Star: 5 Stars
2.Vectr - Free Vector Graphic Editor Online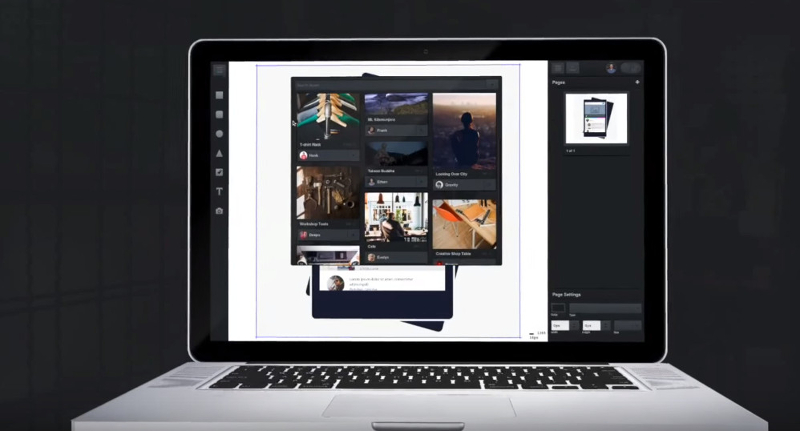 If you are looking for a free svg designer online, Vectr shall be the one among the best graphic design apps. Svg, short for Scalable Vector Graphics, is a graphic format. Svg photo has no quality lost when zooming in and zooming out. And Vectr is the professional svg creator, which is best to draw shapes for web mocking up. You may as well use it to modify a vector image for free.
Platform: browser-based, across platform.
Reasons to Choose Vectr:
*Best for professional vector graphic creativity.
*Initiative operating interface.
*Somewhat like a slim version of Illustrator.
*Easy vector graphic editing.
*Lower learning curves.
*Support annotating graphics.
*Create mockups and infographics.
*Multiple-layer arrangement.
*Free online.
Some Points to Improve:
*Not well support for browsers in Linux OS.
*Not suitable for non-professionals.
*Only support English.
Vectr Graphic Design Website:
https://vectr.com/
Rank Star: 4.5 Stars
3.ArtStudio - Simple & Free iPhone App for Graphic Design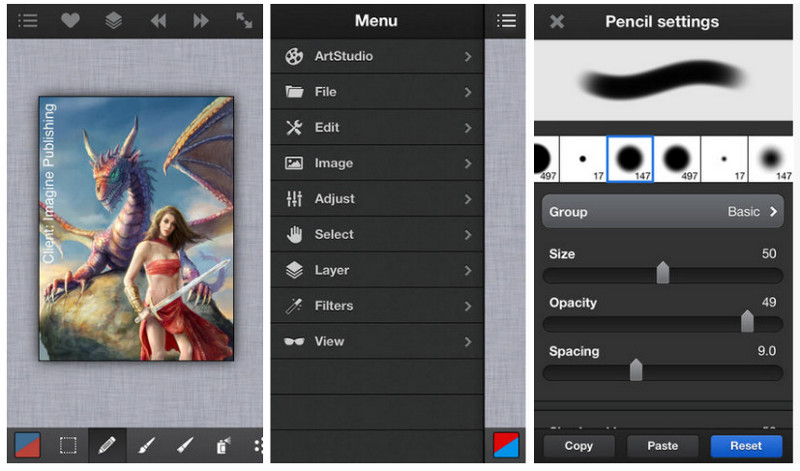 Nowadays, totally free iPhone apps are countable. ArtStudio is the few existed one. It supports users designing photos on the fly. Thus it's ideal to process journey photography when you are on the road. To some extent, ArtStudio is a brief Photoshop for Apple devices.
Platform: iPhone, iPad & Android.
Reasons to Choose ArtStudio:
*Sketch graphics, draw & edit photos.
*Creating surreal photos.
*A group of brushes, up to 150+ brushes for all demands.
*40+ iPhone image filters.
*16 handy graphic tools.
*Layer construction.
*Intuitive interface, easy to learn.
*Free of charge.
Some Points to Improve:
*Only support English.
*Android devices have some support issues.
*Only support for mobile devices and a few OS.
Some Points to Improve:
https://itunes.apple.com/us/app/artstudio-draw-and-paint/id354818333?mt=8
Rank Star: 4.5 Stars
4.Infinite Design for Android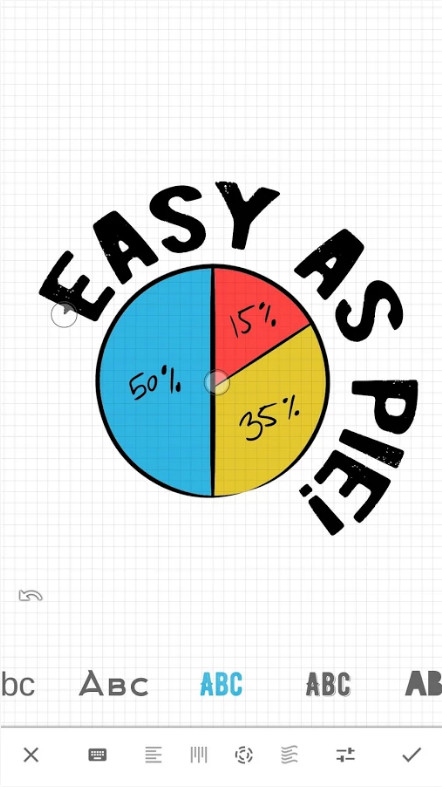 Infinite Design is a simple graphic crafting app, which only sells at Google Play Store. It offers its user a pen tool to draw graphics freely in Android. Comparing to kinds of Android graphic drawing tools, it's way easy to use. Besides that, there is no point to comment.
Platform: Android.
Reasons to Choose Android Infinite Design:
*Not difficult to figure out how to run it.
*Convenient pen tool to draw anything you need.
*Android text tool: horizontal, vertical, circle, or text on path.
*Allow drawing 3D cityscapes.
*Import or export SVG graphics.
Some Points to Improve:
*A small group of users reports malfunction after updates.
*Users have to pay after the trial period ends.
*In-app features: $1.99 - $7.99 per item.
Download link:
https://play.google.com/store/apps/details?id=com.brakefield.idfree&hl=en
Rank Star: 3.5 Stars
5.GIMP - An Open Source Graphic Design Software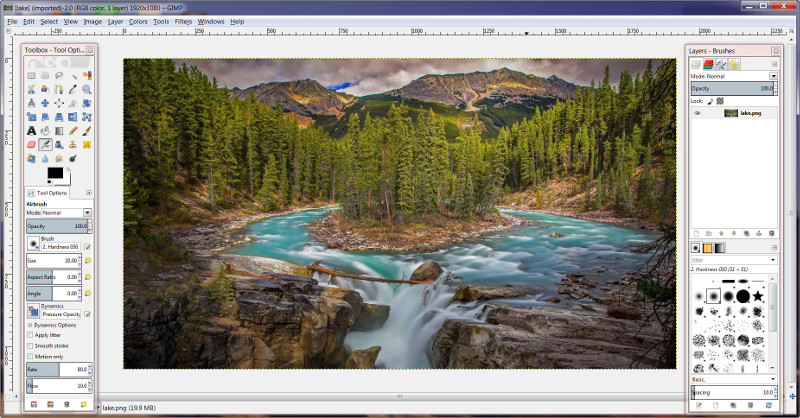 For those who are looking for a free Photoshop alternative, you've found it here - it's GIMP, which has all graphic design features but with a steep learning curve.
Platform: Mac, Linux, Windows
Reasons to Choose GIMP Editor:
*Create an animated picture, make a gif.
*Layer system.
*Make a mirror image.
*Make a portrait stamp.
*Extract any shape from a photo.
*Multi-language, etc.
Some Points to Improve:
*Hard to learn.
Free Download:
https://www.gimp.org/
Rank Star: 4.5 Stars
6.Blender - Top-level Open Source Application for Graphic Design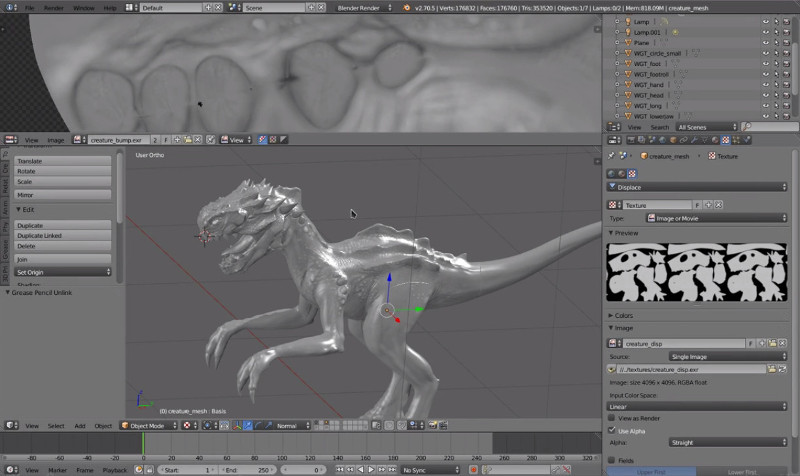 Blender is the best graphic creation software for Linux, Windows & Mac. It delivers more than just graphic designs, which is also famous as an excellent 3D graphic maker. As an open source software, Blender shares open source passion and spirits, and offers the most powerful features.
Platform: Mac, Linux, Windows
Reasons to Choose 3D Blender:
*Create game assets.
*Graphic modeling.
*Render photorealistic effects.
*Fully-support 2D, 3D.
*Create a human head.
*Curve Modelling.
*Paint bump maps.
*Quickly rig with some experiences.
*Make animations.
*Multi-language
Some Points to Improve:
*Difficult to learn, piles of tutorials.
Blender Homepage:
https://www.blender.org/
Rank Star: 5 Stars
One More Graphic Design Solution: Template.net
Template.net is a place for those who need to make a change in business. This website will give you a complete design solution to all your SME needs. You can Get Unlimited Access to Entire Site of 100,000+ Ready-Made Templates in no time. The Ready-made templates available at template.net are editable, shareable, and customizable in any way you want. You can check out varieties of templates available at template.net.
Platform: browser-based, across platform.
Reasons to Choose Template.net:
*Helps you create charts, data and process flows, prepare sales and marketing presentations.
*Ensure effective content that can deliver projects faster.
*Makes you easily create and customize legally-compliant business documents.
*Helps improve documentation, reports and policy-making tools.
*Aids you in strategizing your next move through market analysis and customer research.
*Easily creates branding design requirements like logos, brochures, and flyers for distribution to potential customers. (Also know: Logo maker DesignEvo is also a good choice for you to make logos for medical business, science and technology, industrial, etc.)
*Helps to increase sales with eye-catching banners for display advertisements.
*Gives you the best ideas to package and sell your products with styles that stand out from the competitors.
*Helps maintain brand consistency in a variety of products and services.
*Is an effective tool in creating, launching, and sharing promotional designs and services on social media and other relevant sites.
*Is an invaluable tool when revisiting marketing strategies through customizable sales and marketing templates.
Homepage: Template.net
Rank Star: 5 Stars
Starting Design & Create Art For Real
If you still can't make a decision in choosing a graphic design tool after glancing at above reviews, we suggest you start with a simple tool - FotoJet Designer, since it's a smart & easy graphic design software.
Here are the steps to create an eye-catching design:
1.Install & launch FotoJet Designer.
2.Hover through themed templates in its interface and click the one that you preferred.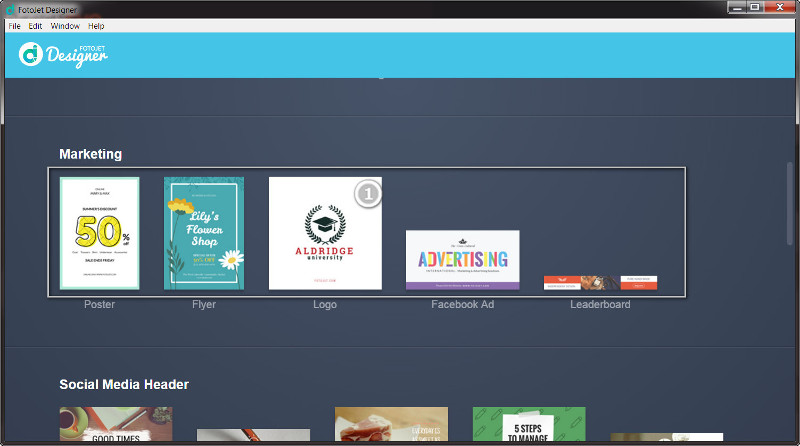 3.Then design editor panel will show. There you are free to customize any elements as long as you like.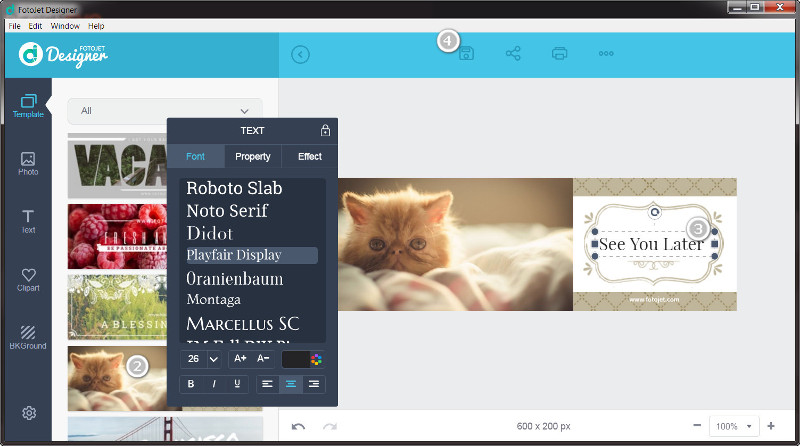 If you like top graphic design tools roundup, a Facebook/Twitter share will help more people in need. If you know some better designers that we don't mention and you'd like to share with us, then @fotojetapp to let us know. BTW, in addition to graphic designs, great product explainer videos can also boost your sales.
Enjoy design, enjoy life!