Make a Graduation Collage
Graduation ceremonies are coming up soon and it's high time to pick out the delicate presents for the graduates. Graduation marks a transition to the next phase of one's life and the gift you give should be equally memorable and meaningful. However, getting some cool graduation gift ideas on the Internet is one big headache.
Have you ever considered making a personalized graduation photo collage as your unique graduation gift for your classmates? If your answer is no, try it now. Gifting a graduation collage is guaranteed to be one of the most meaningful gifts that your friends will receive. This article will introduce you a free online collage maker that enables you to quickly create collages in any browser without any downloading or installing.
Now directly click GET STARTED and check the following simple steps to start your creation for free.
Step 1. Choose a Graduation Photo Collage Template
Once you've clicked GET STARTED to enter into the next page, 190+ beautifully designed templates will appear in the category of Collage and Photo Card. Click on different tabs like Holiday, Classic, Modern, etc. under these two categories to show the related templates and then choose your favorite graduation collage template by double clicking or by clicking the Choose button.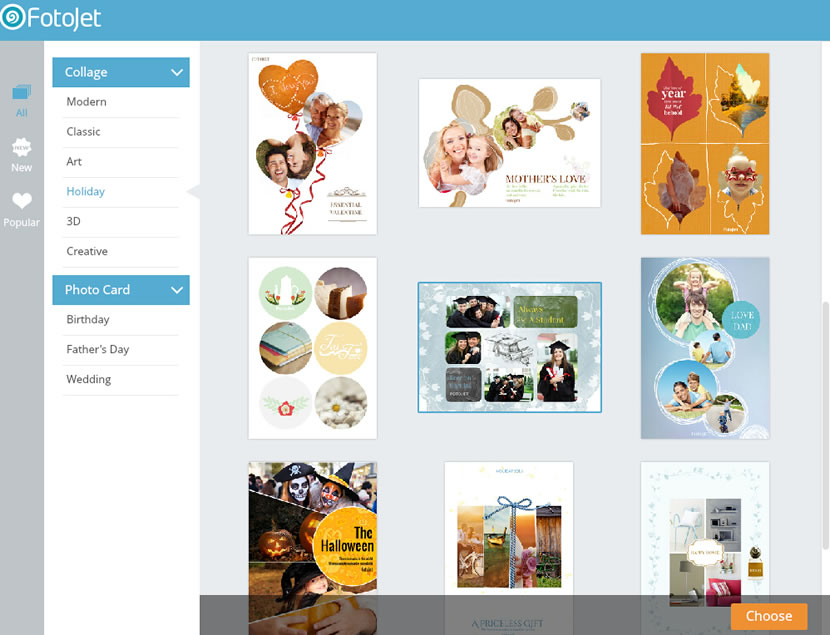 Various gorgeous templates in this free online collage maker will deliver endless design inspiration for you. After seeing them, have you got some amazing graduation gift ideas?
Step 2. Add Graduation Photos and Adjust Them to Find Their Best Places
You must have taken tons of photos that can reflect all the important events throughout the life of your classmates. Now turn them into a collage to keep them alive.
This collage maker allows you to add photos in two ways. One is to directly click Add Photo button to add your desired graduation photos from local folders to the photo list. The other is to click

on the right side of Add Photo and then click From Facebook to login your Facebook account and add photos from your Facebook to the photo list.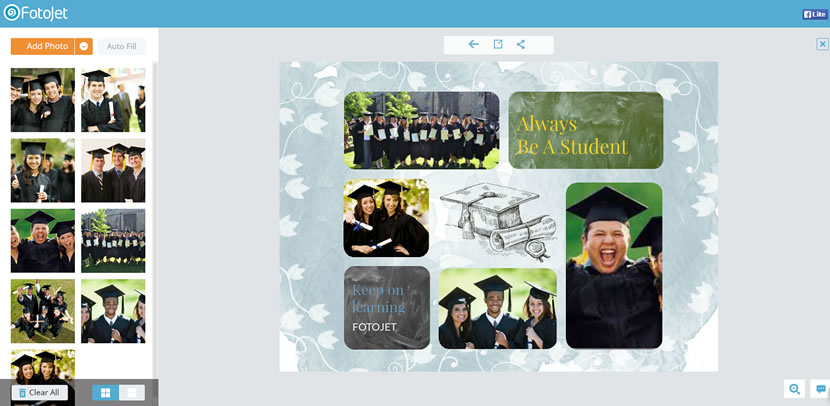 Freely adjusting your photos to find their best places is also available for you. Click once on each photo you want to retouch and then the Edit Image panel will appear in front of you.
Free to grab the slider to zoom in/out on the photo based on your own needs. Also, you can click

and

to rotate your photo by 90 degrees anti-clockwise or by 90 degrees clockwise. To flip or mirror your photo, just click

and

.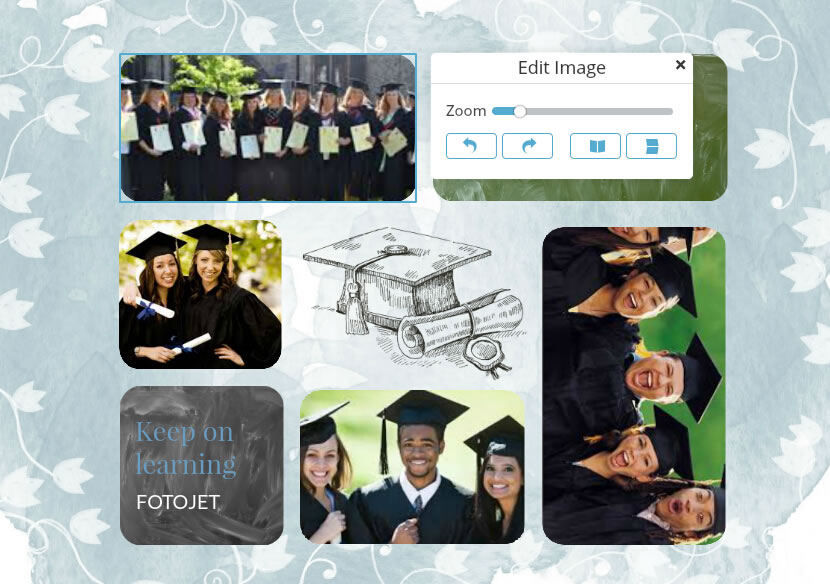 Step 3. Add Your Sincere Graduation Wishes and Make Corresponding Settings
Click the prewritten text on the template and then input your sincere graduation wishes you want to say. The popup Edit Text panel gives you an access to freely set text font, style, alignment, color and size.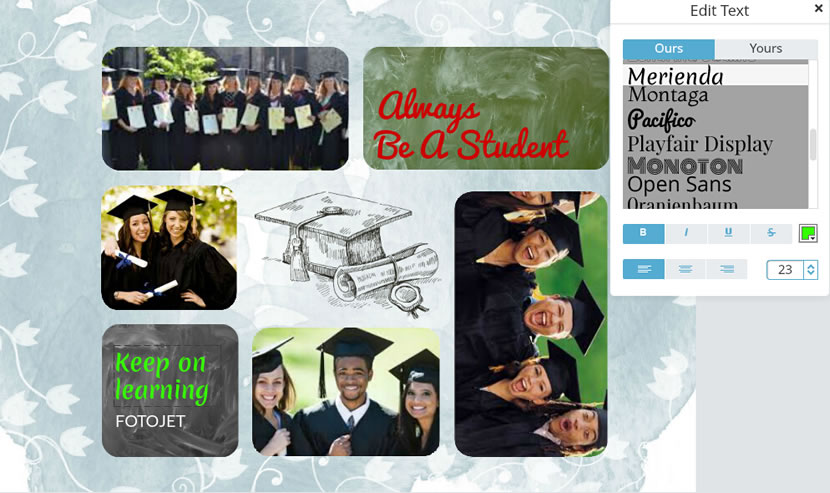 Step 4. Save & Share Your Graduation Collage
Once you've finished your creation in a perfect way, you can click

on top of page to save you collage in JPG or PNG format. If you decide to save it in JPG format, you are free to choose the output quality from Low, Medium, and High. Next click Save to Computer to save it to your local disk for future use.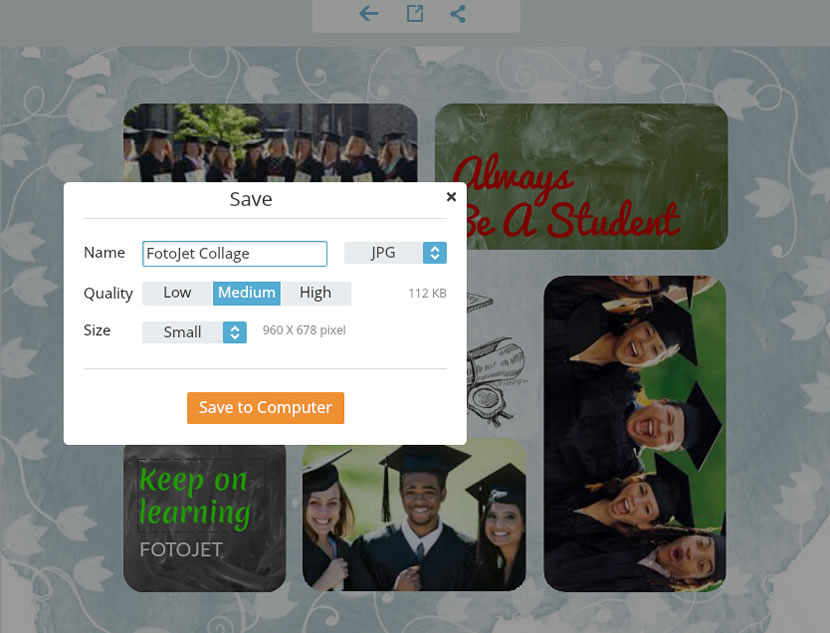 In addition, you can click

to share your graduation collage to your Facebook. I'm sure your friends will enjoy it very much.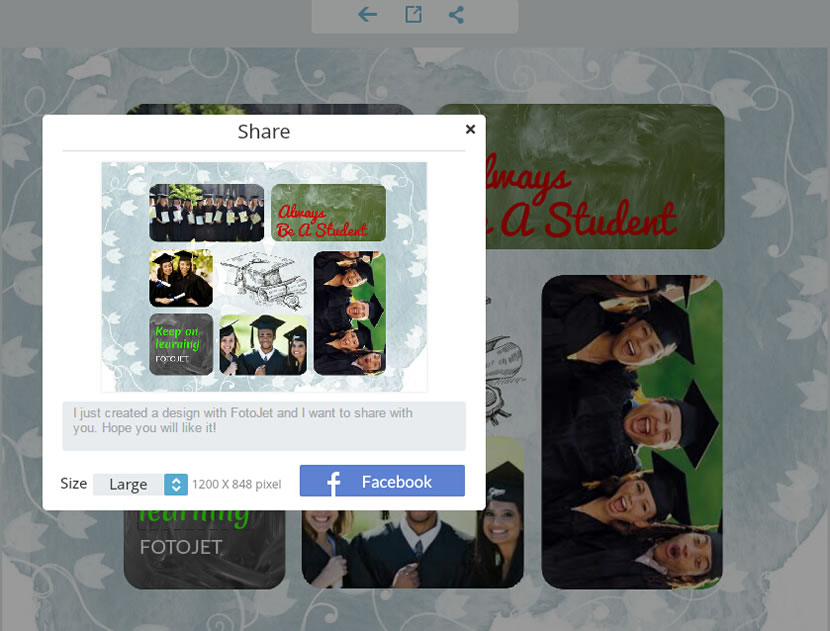 Many families and friends hold a graduation party to celebrate the monumental ceremony. You can either present your graduation collage during the party or on the actual day of graduation. So, get great graduation gift ideas from FotoJet to start your wonderful creation.
Make a Graduation Collage Now
Try it for free, no download or registration required.
Get Started