Christmas Card Templates Enlighten More Christmas Card Designs
Christmas is around the corner, a day full of joy and happiness. Crowds of people are pouring into stores from morning till night to buy Christmas gifts for their beloved families and friends. Buying a considerate gift is a nice way to express your best wishes absolutely. However, a personalized Christmas card can also deliver your blessing directly.
You may claim that making a personal Christmas card is difficult and even impossible for someone although it is a good choice. They have no idea about what to prepare, how to deal with it and more. Fortunately, the development of online photo editing tool such as FotoJet brings a good news that people are enabled to customize Christmas cards easily and quickly with its built-in Christmas card templates.
FotoJet provides tens of Christmas card templates, which make it possible for users to make Christmas cards with no sweat. And even one template can inspire several card creations. Let's take a template as an example.
Can't-Miss: How to Make a Christmas Video for Ones You Care >
The easiest way to make Christmas cards
Choose a Christmas card template you like most and add your own photos to it. If you have no additional requirements, your card is finished now. Then you just need to print it out and send it away.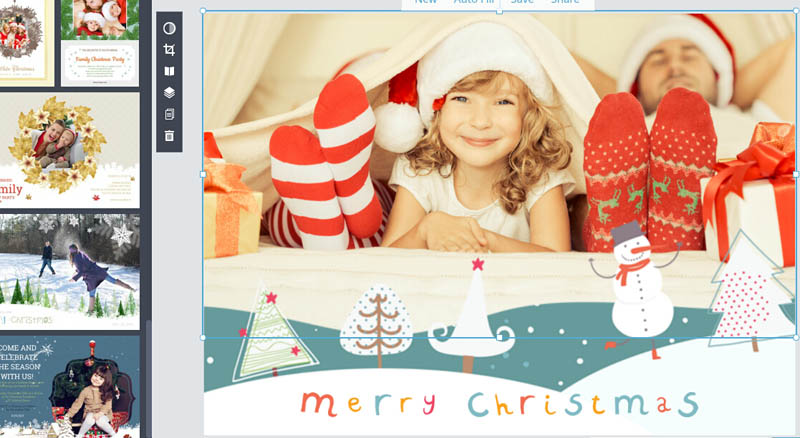 Make more adjustments on your personal Christmas cards
If the easiest steps above can not meet your needs, you can adjust it to beautify. Firstly, you can change the effect of photos. Filters, Brightness, Contrast, Saturation and more can be edited to embellish photos. Then, you can add cliparts and text. Cliparts under the Christmas category may match your card creation very well. And you can input your sincere wishes to the template to express your blessing. The font, color and alignment of text can be changed as well.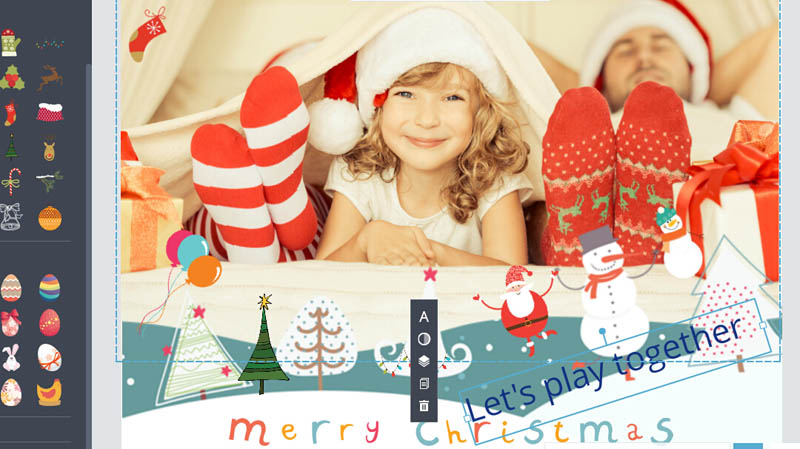 Add more photos to the Christmas card templates
Even the templates are originally designed for one or two photos, more photos can also be added. When two or more photos are put together, there may be some blank space between photos. You can choose another background to fill in it.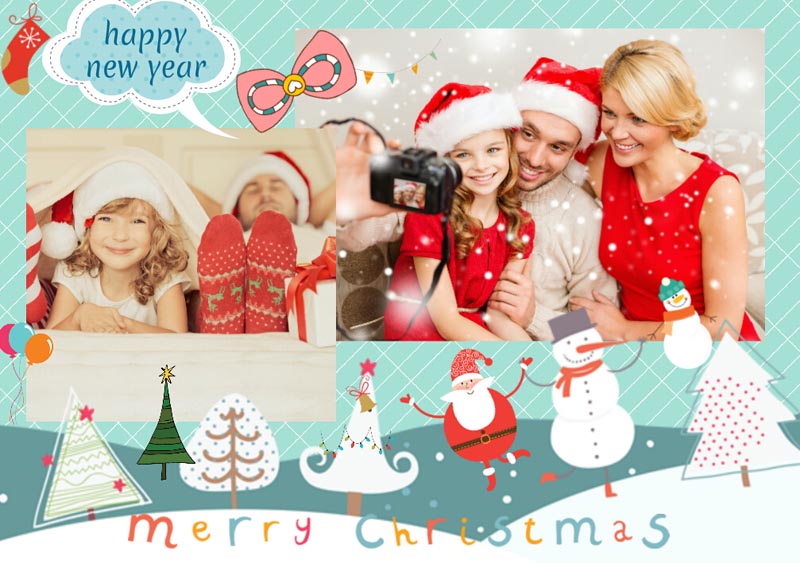 As you can see, the cards above are made from a same Christmas card template. But it shows in different ways due to the adjustments. How about choosing one photo card template to inspire your Christmas card ideas.
Enlighten More Christmas Card Designs Now
Try it for free, no download or registration required.
Get Started