Customize Fabulous Christmas Day Card Easy and Exciting with FotoJet
In all kinds of festivals, we always hope that through the special atmosphere to express the love to those who we love deepest. Sometimes we do not know how to express it with the language when we are face to face, so more and more people love the way that express love and feeling with the words and cards. In the coming Christmas Day we are hoping to make ourselves Christmas Cards unique and gorgeous.
However the mainstream greeting card industry can rarely express you own unique love, feeling even character. Let alone add personal touches. In this way, the electronic Christmas Cards are a more convenient way than traditional way with pen and paper to send Christmas Cards to your friends and loved ones.
Are you the shutterbug who is forever capturing that perfect shot? If not, how we can find the perfect photos to make Christmas Card? FotoJet is an all-in-one graphic tool for collage making, graphics designing and photo editing. So if you want to edit your shooting photo into perfect ones, you can use FotoJet Editor to make some adjustments to your photos. It can do many things, and the following image will tell you the details. With beautiful photos you can get started to create your Christmas Card. You can do better and for a very affordable price if you have a little time to create your custom card for Christmas Day via the online tool FotoJet. There are two ways to make, both from collage mode and design mode.
Collage mode
In this mode, you can make all kinds of photo cards, and of course you can make pretty Christmas Day Cards. Click the image named Christmas, and then you will see lot of beautiful templates.
You can make a quick preview by drag the bar of the templates list. There are many provide you, you can choose any one to use. After you decide which one to use, what you need to do is just click the template you chose. You can play with the sample images or upload yours, you can click the Add Photo button on the top of the right side, and then you can add from computer or Facebook.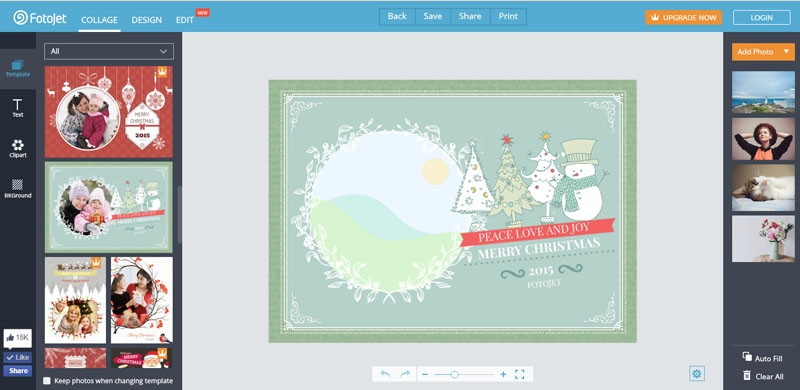 Now, you can drag your photos to the templates boxes. What's more, you can add text or clipart and change the background. Add your own words can help you to express your love to friends and family and the loved ones and make sure you give them the most precious and sincere blessing in Christmas Day. You can also add outline and glow to make your text more wonderful. If you want make text or clipart into watermark, just adjust its opacity.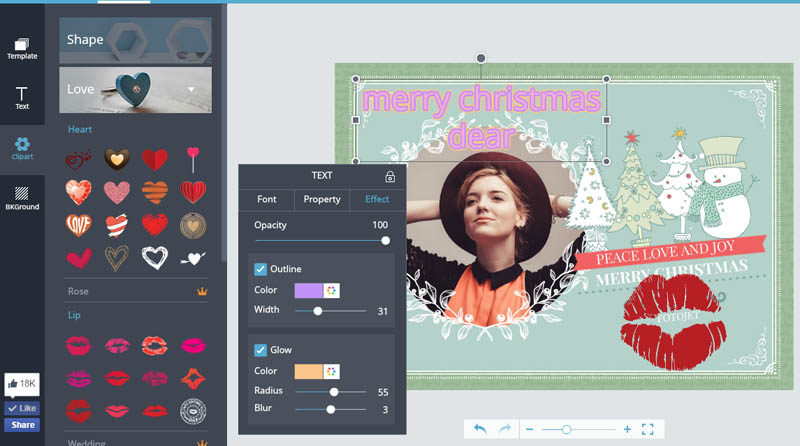 Graphics designer
FotoJet designer gives you more choices to make your wonderful Christmas Cards. All the templates provide by editor are embedded with images, text, clipart and other elements. They are well-designed and you can use the templates directly after make some very slight adjustments. Christmas Cards can be found in the Card section, after you enter it, a lot of will shown on your eyes. You can find many different holiday cards here, this kind of cards provide you a more convenient way to make cards and send to other people.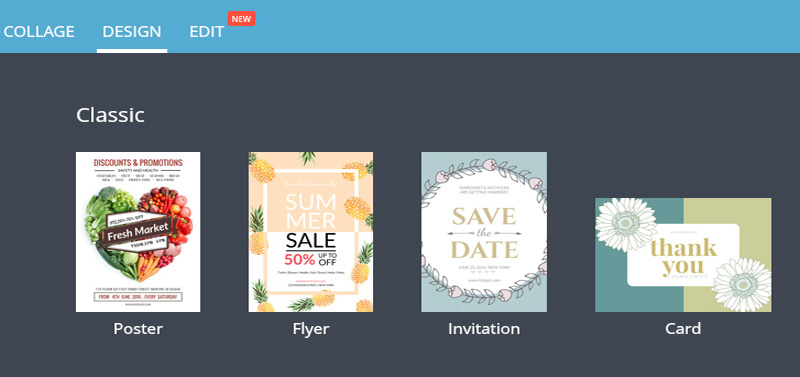 Click the one you like, and make some adjustments and add other elements you need, such as text, clipart and so on. Under design mode, you have three ways to open photo, they are open from your computer, add from your Facebook or search from internet.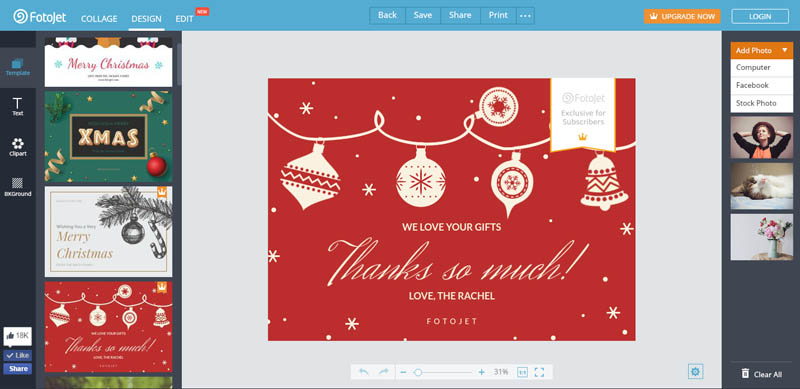 Design mode allows you search images or clipart from internet to use, so you have the free right to search some more related to the coming Christmas Day. Just type the words you want to search, you will get many results. You will definitely enjoy this one.
Compared to the traditional method of making cards, online making electronic cards looks simpler and quicker. It can save money and time for us. At the same time, with the help of professional tools we are able to produce exquisite cards and this makes us look more professional even we are not professional artists. Now there are plenty of online tools you can find on the internet, to pick up a right one is something challengeable. From the above, you must find FotoJet can be your one of the best choices. It can not only help you to make Christmas Cards for the coming Christmas Day but also be your collage maker, graphics designer and photo editor.
Come to have a try of FotoJet and say merry Christmas to all you loved.
Make Your Own Christmas Day Cards Now
Try it for free, no download or registration required.
Get Started