Design Creative Christmas Cards to Wow Friends and Family
It will be Christmas time once again in a few days! Need something special this year? Try some creative Christmas cards to express your care and love. You'll be able to wish someone Merry Christmas by sending self made creative Christmas cards.
Making creative Christmas cards is fun, and you control over how the card looks and what it says. It's also very easy if you use FotoJet. Even if you are not especially professional, you can still turn out something amazing looking cards.
Find some creative Christmas card designs
Before starting your Christmas card design, take a look at this collection. A wide range of Christmas cards will serve as inspiration for you.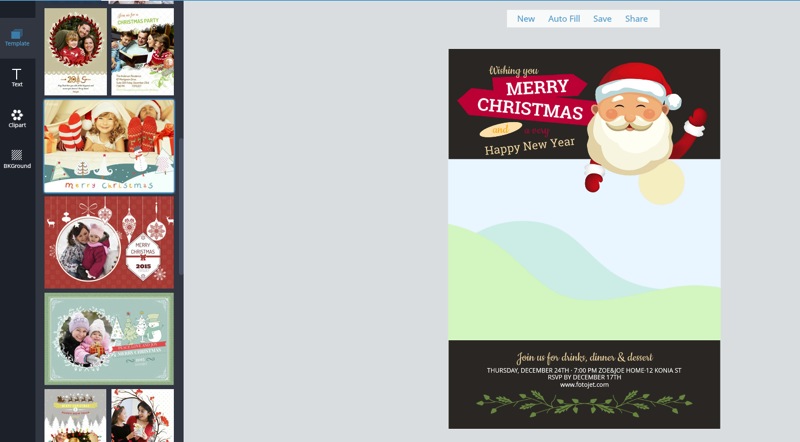 You can get fabulous ideas of creating creative Christmas cards for this special occasion. These cards can be classy in look or may be very simple, can be for family, baby, friends and lovers.
Make the Christmas cards your very own
There are preset photos, messages, and other ornaments on the templates. You have full control over customizing them with your own style.
Take your creative photos to use
You must have some special photos of your own, your family or your close friends in your computer or in your Facebook albums. Just upload them to use with some clicks.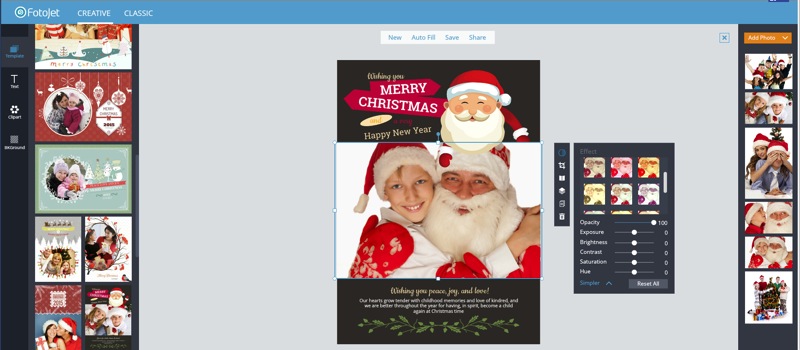 To make the photos you add show properly on the card; simply zoom, move, flip, or rotate. Your photos will be more stunning with some filters or color adjustments.
Express your Christmas wishes in creative way
The messages that FotoJet's Christmas cards carry with are replaceable. You can edit them with some creative messages there and make them look special and unique by setting amazing fonts, colors and effects. By doing this, you are adding some personal touch in your creative Christmas cards.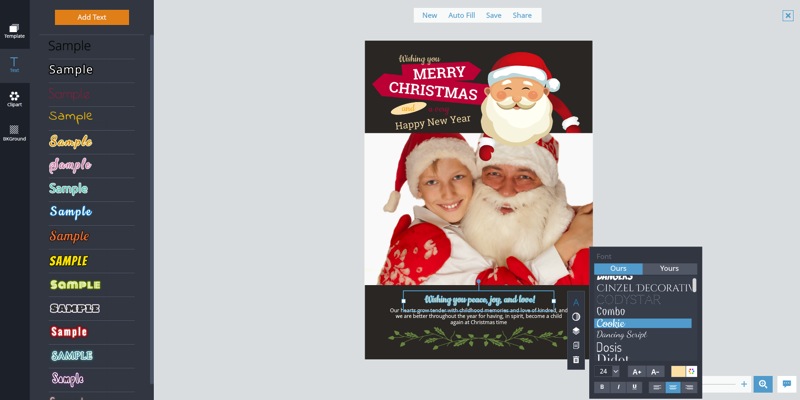 Add some ornaments on your creative Christmas cards
You will see many beautiful Christmas ornaments on the left sidebar under FotoJet Clipart collection including Santa Clause, Christmas tree, jingle bell, snowman, stocking, etc. All these images are free to use.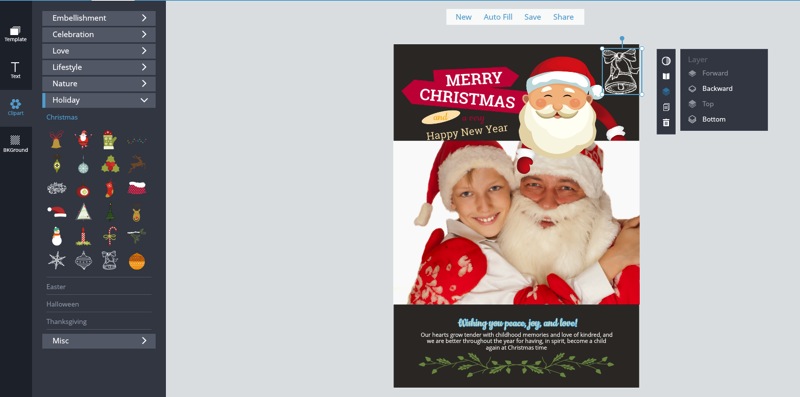 You can add any one to use and move, resize, rotate them at will to make creative Christmas cards.
Save or share your creative Christmas cards
Now that everything is OK, go ahead to save your creative Christmas cards in computer and then print them out. There is a quick way that you share these cards with your friends or family via Facebook.
Christmas holiday should be special every year. It's nice to send your friends and family members creative Christmas cards that will really impress.
Design Creative Christmas Cards Now
Try it for free, no download or registration required.
Get Started