Unique Homemade Christmas Cards – Epic Gifts to Express Christmas Greetings
Christmas is one of the happiest moments of the year. Here it is again rapidly approaching and will be upon us in the blink of an eye. It's time for gift giving and sharing. Get stuck in a gift-giving rut at this busy time of the year? Don't worry! You can actually convey your greetings through homemade Christmas cards. Writing some sincere and special Christmas card greetings & wishes would make it perfect to express how much you care and cherish the people around you.
Speaking of homemade Christmas cards, we'll show you a simple way to create Christmas cards for free. It's very easy to make a beautiful Christmas card with FotoJet. Click GET STARTED button under the Photo Christmas Card feature to go ahead.
Choose a Christmas card template
Entering to editing mode, you will see dozens of Christmas card templates at left of the window. Scrolling down the sidebar, you can go through and take a look at these beautiful templates. Find the one you love and click on it to continue editing it. Or you can start a card from a blank template.
Add personal touch to your Christmas card
Would you like to add some personal touches to make some unique Christmas cards? Just add your personal photos, include your own greetings, and make it in your own style.
Add your own photos
FotoJet allows you to add photos from your Facebook album as well as from computer. Once the photos are added into the right photo list, you can simply drag and drop it into the photo frames you want. Then adjust the photo with photo effect, opacity, exposure, brightness, etc.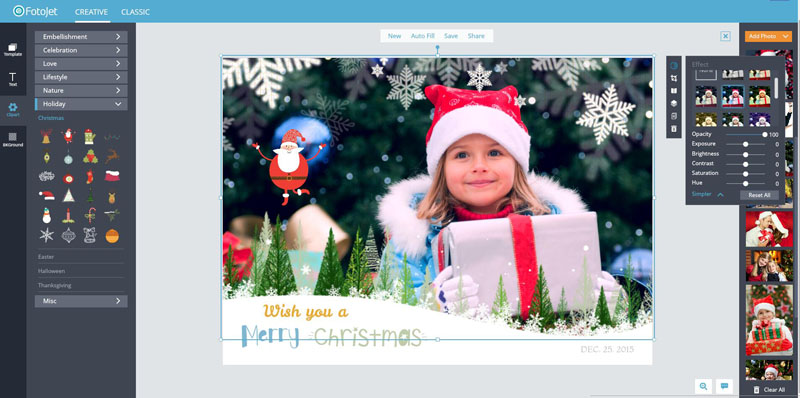 Include Christmas card greetings
Some greetings are already on the templates. However, do you think the preset Christmas card greetings are suitable for your needs? If not, feel free to personalize your own greetings. You may use the preset text samples to design your own words. Alternatively, you can customize the text look using the text editing tool.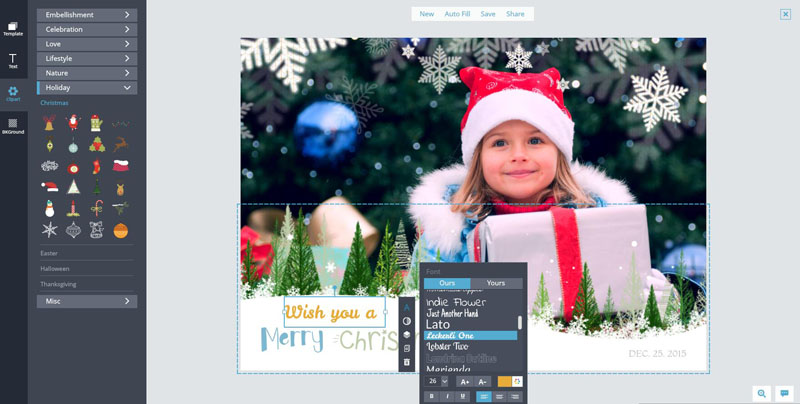 Other decorations
There are hundreds of clipart in FotoJet for decorations. Browse the different categories and add some cute and fun clipart ornaments on your Christmas cards. You will have the options to adjust the clipart's opacity, brightness, contrast, saturation, and more like a photo image.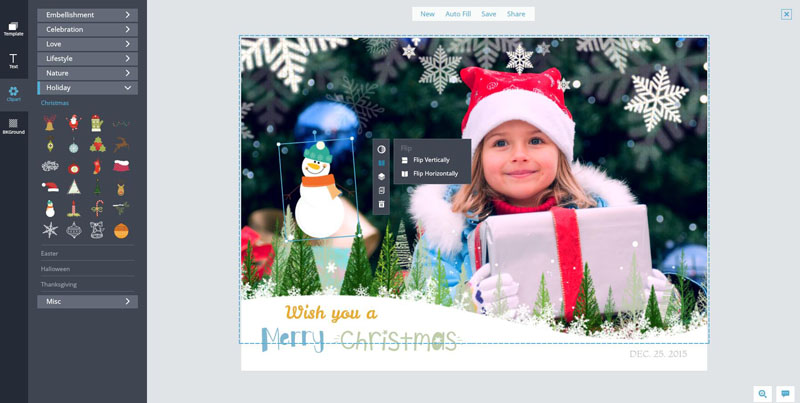 Besides the large amount of clipart, you can change a background for your card if you need. Simply click BKGround to set the background with your own image or the preset pattern, or with a color.
It's Time for Gifting
Once a unique Christmas card is satisfying, directly share it on your Facebook with your friends and family. Or save it to your computer and then share them in other ways. These who receive your cards will definitely have a smile upon receiving this special gift.
This is the season for spreading good cheer! Want to make this Christmas brighter and merrier by sending cards clubbed with the right Christmas card greetings? This type of unique Christmas cards would be something most appreciated and really special. Why not get fancy this Christmas with some homemade Christmas cards now?
Make Homemade Christmas Cards Now
Try it for free, no download or registration required.
Get Started