Deliver Birthday Wishes to Your Loved Ones by Sending Printable Birthday Cards
Birth is your beginning, which is a window to the chance of a lifetime and to fulfill your unique mission. So a birthday is a momentous occasion that needs to be commemorated just as a nation commemorates its birth or as an organization celebrates its founding. Around the world, almost everybody celebrates birthdays by holding birthday parties, giving gifts to the one being honored and wishing "Happy Birthday!" to the one whose birthday is being celebrated.
In short, a birthday celebration just wouldn't be perfect without something special. Have you ever thought of how to surprise your friends or relatives on their birthdays? How do you think of making free printable birthday cards by yourself? There is no gift more meaningful than a personalized birthday card depicting sweet memories in one's lifetime. Therefore, consider trying it now with FotoJet that inspires you to create stunning birthday cards for any person who is very special to you.
Step 1. Choose your favorite birthday card template
This birthday card maker provides you abundant of gorgeous birthday card templates that can help you get great design ideas. Whether you want to make a birthday card for your parents, grandparents, kids, boyfriend or girlfriend, Fotojet can offer you any delicate template you need.
Click Birthday tab on the left side of the template page and then freely double click your desired birthday card template or click the Choose button to begin customizing your card.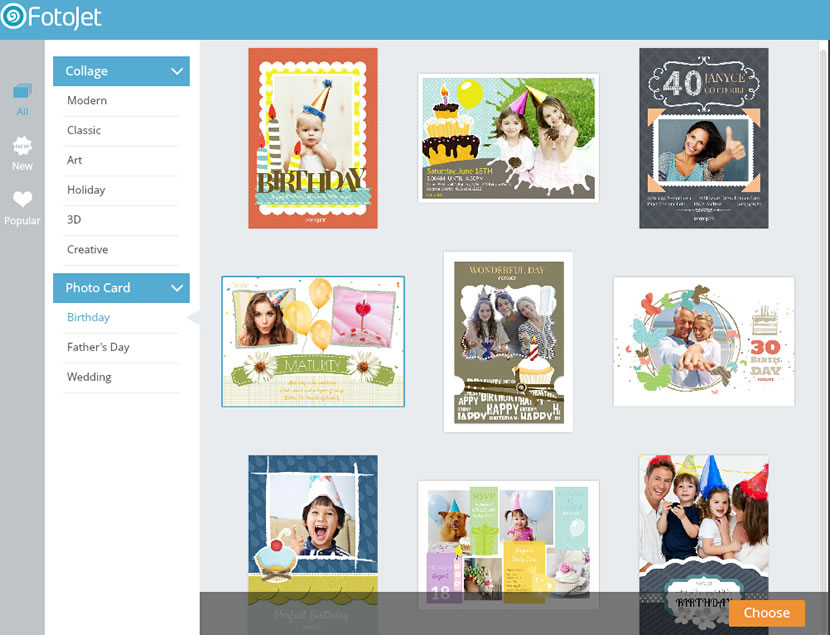 Step 2. Add beautiful photos into your birthday card
Click

to add some nice pictures of the birthday person in two ways. One is to choose From Computer to add the pretty photos from your local folders to the photo list. The other is to choose From Facebook and then add pictures from your Facebook. Then, drag and drop any photo in the photo list to your birthday card.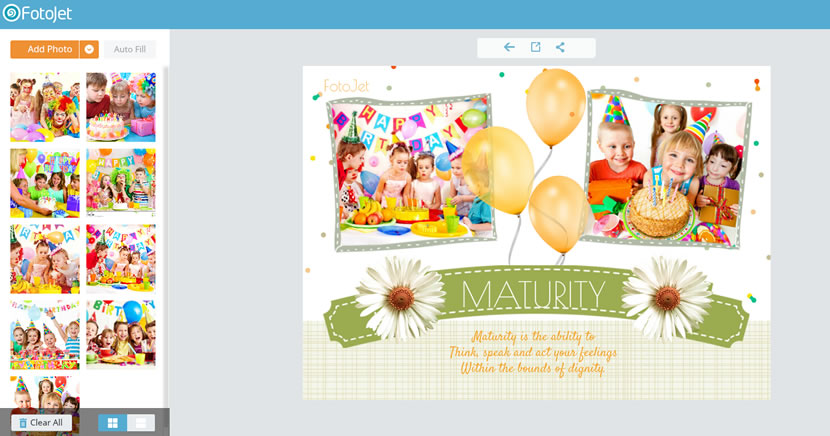 For creating a perfect birthday card, merely adding photos is not enough. You need to make personal adjustments onto them to catch the eyes of your friends or family members. Click once on each photo you want to adjust and then the Edit Image panel will appear accordingly. You can grab the slider to zoom in/out on the photo at will. Also, you are allowed to freely rotate, flip or mirror your photos.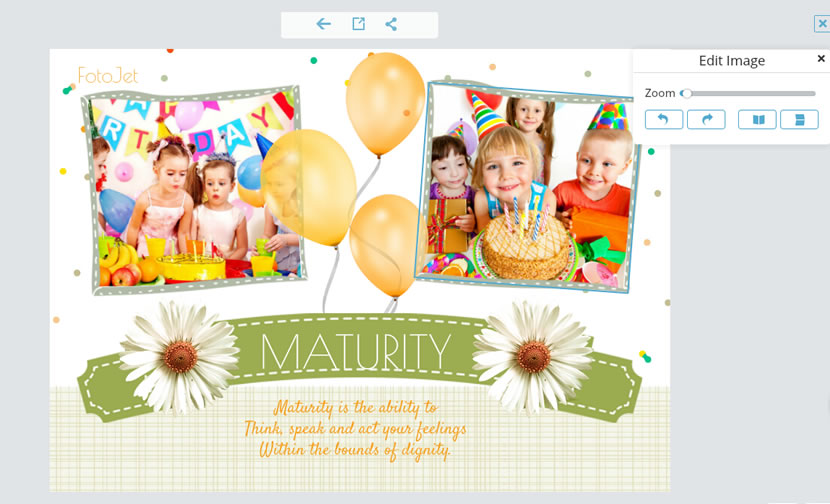 Step 3. Input your birthday wishes
Birthday wishes definitely adds cheer on your friends' or loved one's birthday. Fotojet gives you an option to freely add any word you want to say. You just need to click the prewritten text on the template and then input your sincere birthday wishes into your card. Here you are free to set text font, style, alignment, color and size on the Edit Text panel.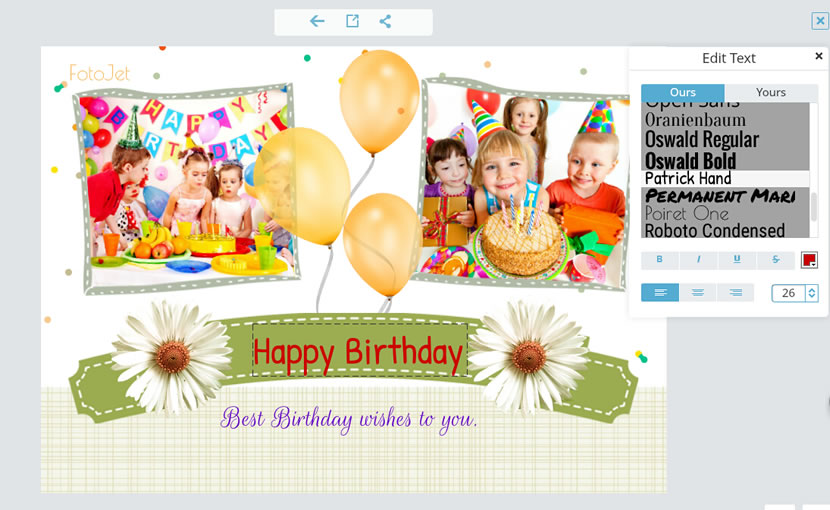 It would be a good choice for you to add some sweet messages like "Happy Birthday!", "Best Birthday wishes to you!" that show your deep feelings for the birthday person.
Step 4. Save your birthday card and print it out
Click

on top of page to save your work in JPG or PNG format based on your own needs. Then freely input Name, choose output Quality if your save it in JPG format and set Size for your birthday card. Next click Save to Computer to save it to your local disk and then print it out with your home printer.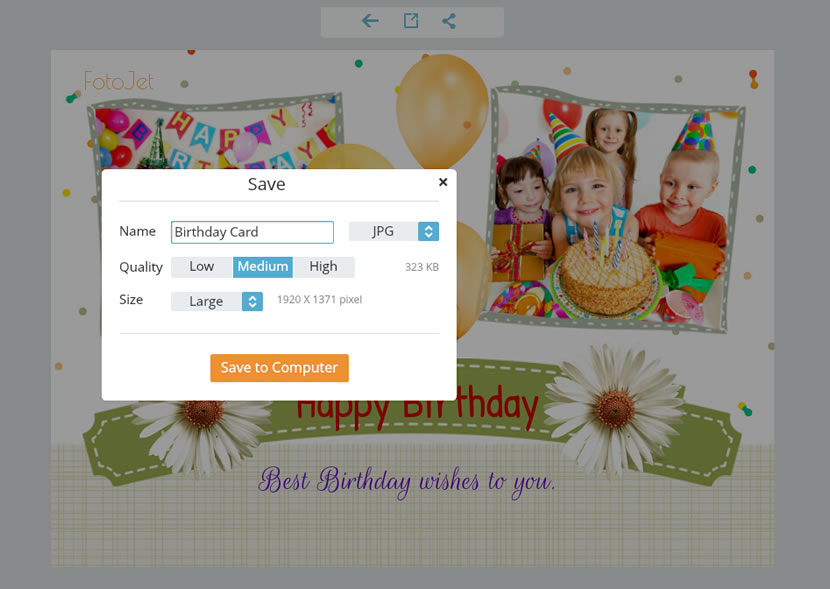 It's super easy for you to make some free printable birthday cards with FotoJet for your recipients who will keep your amazing gifts forever. Why not have a try? It's totally free and it provides you a huge collection of unique and beautiful birthday card templates that you can choose from.
Design Your Own Birthday Cards for Free Now
Try it for free, no download or registration required.
Get Started