Make Personalized Thank You Cards for Teachers - Do It Yourself
Say thank you to your teachers
Summer break goes and Teachers' Day is on the way. It is a good time to say thank you to your teachers.
Personalized thank you cards can be the choice, easy to make and not lacking sincere.
There is a saying that teachers have the hardest job in the world. I cannot agree more. They are knowledgeable, patient, enthusiastic and kind, and they put all this to their students, who usually do not want to be taught.
Imagine that force someone to eat green pepper though he doesn't like it at all. Teaching someone who doesn't want to learn may be something like that.
Teachers always repeat on the class, don't they? No matter how many times they explain, we just do not remember. Who will say the same thing, same words again and again only to make you understand, except teachers?
It's our turn to do something. Let's make some personalized thank you cards for teachers.
You are afraid of that many of the thank you card ideas for making printable thank you cards are pretty complex? Let Fotojet.com help you with that.
With a series of thank you cards templates, you could find that making printable thank you cards is interesting and easy.
Make Printable thank you cards online
Tools can make things easier, so does FotoJet, an online photo collage maker. Here let us do personalized thank you cards for teachers together to see how it works.
Load www.fotojet.com and click "GETSTARTED". You will see the template page. Choose "Thank You" in the left bar, and pick one thank you card template you like by double clicking or clicking the "Choose" button.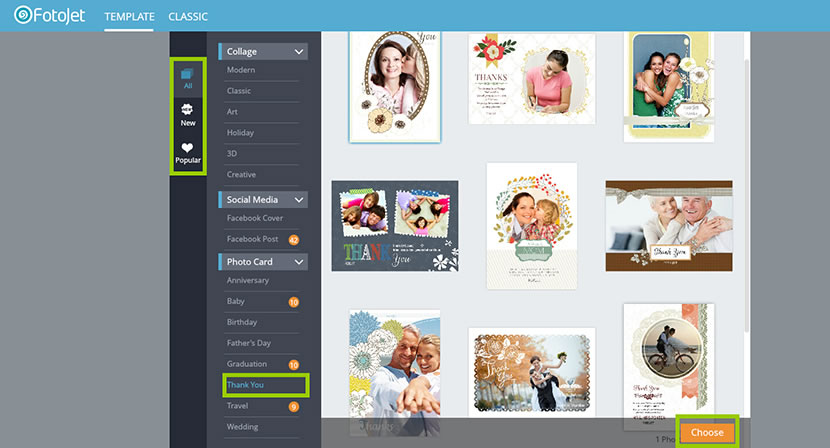 Add photos from computer or Facebook, and then drag them to the edit area. Position the photos just the way you like them and play around with the options on the "Edit Image" panel.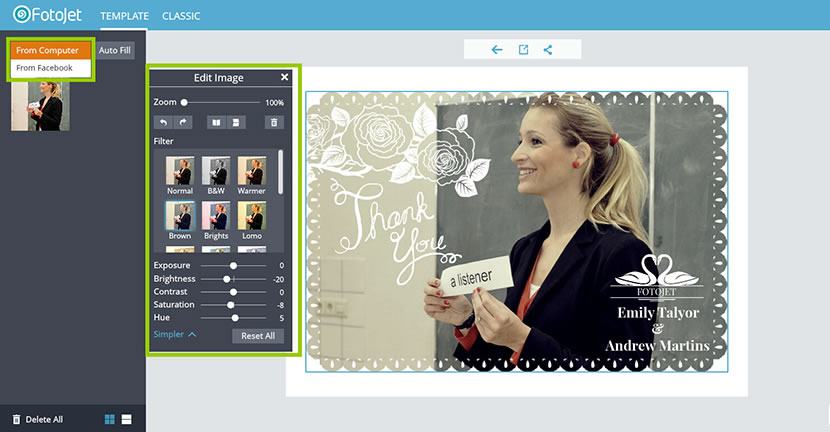 Double click the text box to edit the text. Put some thank words in. You could change the font, color and size on the "Edit Text" panel.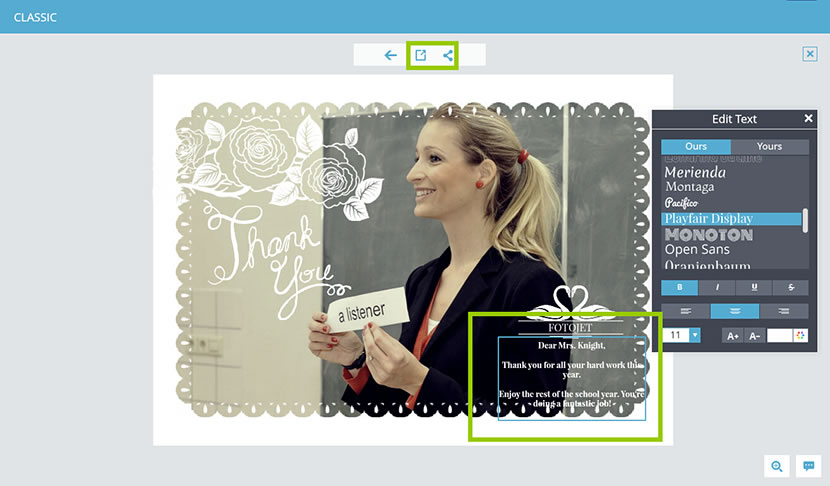 There you go! A personalized and printable thank you card for teacher has done. Do not forget to save it or share on you Facebook.
Make an original thank you card
Within those thank you card ideas, making something by hand is always the wonderful one.
There is something you should know that you can also make personalized thank you cards without templates. To make your cards be completely original, then try our "CLASSIC" pattern.
On the classic page, you will see many options in the left bar. Choose layout according to the numbers of you photos; try some other options to arrangethe layoutyou want.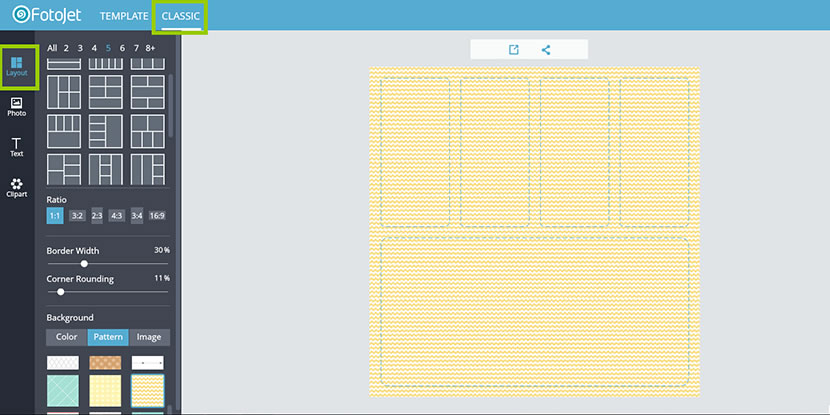 Add photos, choose and position them the way you like.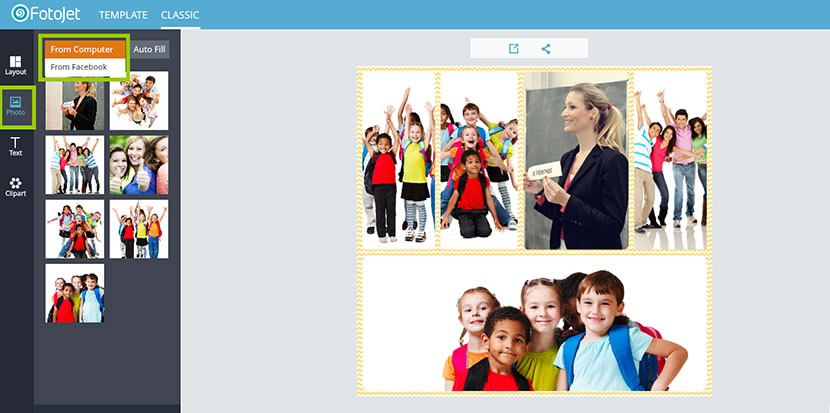 Add text. You canchoose a sample or just click "Add Text" to create one. Put your words on the card.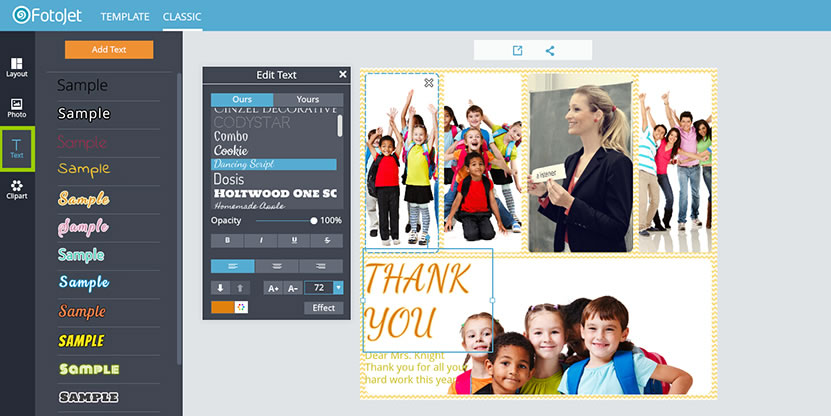 There are hundreds of clip arts for you to make sure your thank you card won't be lacking in creativity.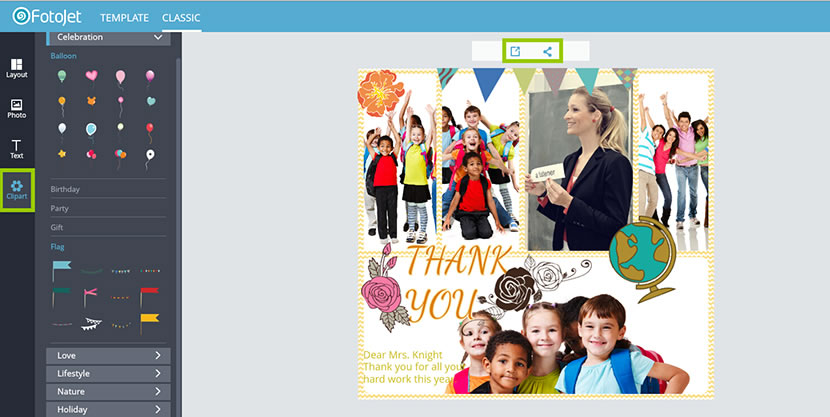 To prepare for the coming Teachers' Day, make a card to say thank you to your teachers. And remember, no matter whom you want to say thanks to by making personalized thank you cards, FotoJet always can help.