Free Printable Thank You Cards for Business
Possibility to make free printable thank you cards
People come up with a lot of ways to express thanks, such as phone calls, emails and cards etc. And there are situations when we have to say thanks in a formal way, especially on business occasions. I suppose that making free printable thank you cards personally can get this work done. Business thank you cards could play an incredible part in your business sometimes.
With the development of the Internet, it is no longer difficult and impossible to make free printable thank you cards. Thank you card makers could be found easily online, chargeable or gratis. You could choose according to your demand.
The hardest part of making business thank you cards, for many, is to get started. How do I begin? What to say on the cards? Should it be artistic or simple? Which thank you card maker is better for me?-I can' tell neither.
But I can introduce you a thank you card maker that is easy to use and start.
FotoJet, an online gratis card maker, can help people create business thank you cards easily and quickly.
How to make business thank you cards
There are hundreds of designed templates and classic layouts, which can satisfy your artistic or simple demands. Let us make free printable thank you cards for business together to know how FotoJet works.
Visit www.fotojet.com, click "GET STARTED".

Choose a template from the "Thank You" category.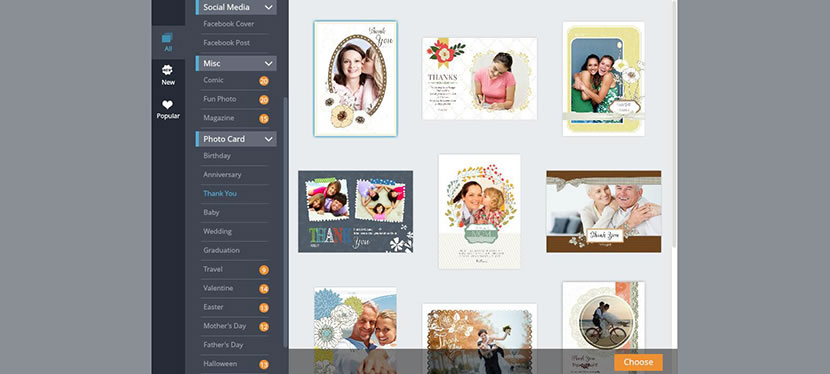 Add pictures from your computer or Facebook. Drag it into edit area, and play around with the options to see what you like best. Change the words in the text box with your gratitude and sincere.
Save it locally, print it and send it to the one you want to say thanks to.
Try to make some business thank you cards now.
About thank you notes
With the help of FotoJet, it is easier to make a business thank you card, isn't it?
However, some are trapped with the thank you notes. What on earth to write seems a real question.
Remember the following five key points, you will find your problem gone.
Who: Make sure who you are thank for, and spell his name correctly.
Express your thanks: Begin with the most important words, thank you!
Details: Add the specific details of the event. Describe the why and how you will thank him.
Say thanks again: Restate your thanks to emphasize your gratitude.
Regards: Do not forget to send your regards in the end.
Hope those above can help you.
Make Thank You Cards for Business Now
Try it for free, no download or registration required.
Get Started