How to Make a Mother's Day Card
Mother's day getting closer and closer, is there anything you want to do for your mom to thanks what she had done for you? Buy her a suit of clothes or a set of cosmetics or just give her some money to have a travel. If you find all these are not meet you, why not make a gift with your own hands to express your deep love for her. FotoJet is a wonderful choice. It is a customer-friendly tool which can ensure you to create a fantastic mother's day card for your dear mom in 4 steps. Let's start to learn how to make mother's day card.
Can't-Miss: How to Create a Warm & Touching Mother's Day Video >
Step 1
Choosing the template you like or the one which can most enlighten you, then adding memorable photo which contains big-time of you and your mother. Just click chose-template, and then drag the photo you decide to put in. the photo can be any one you like, the one has settled or from your computer or your Facebook.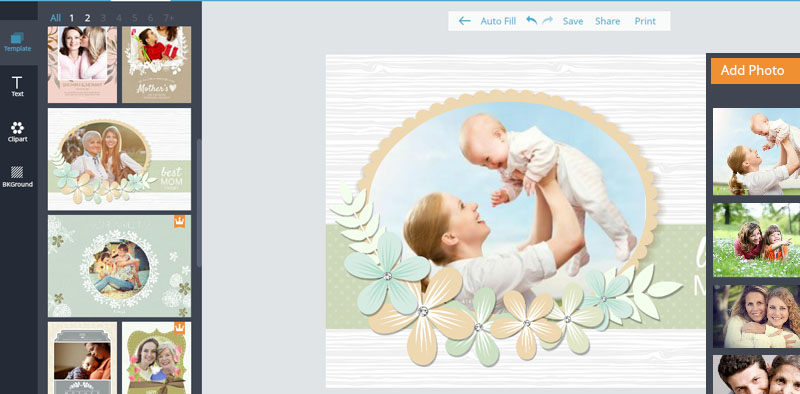 Step 2
Do not forget to add some meaningful text in your card to express your affection, such as "I love you mom", or "to my dearest mother" or any words you want to speak to her, the Fotojet allowed you to edit them free. What's more you can make some adjustments of its color, size and alignments; all these can ensure your card is a unique and splendid one.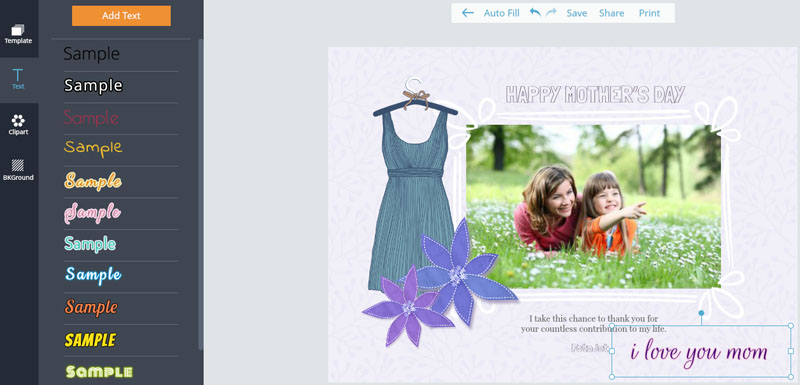 Step 3
Are you satisfied with your card? If not, don't worry. There are plenty of clipart can be used to embellish it. You can click the clipart you love to add it in your card, and then change its position, size color, etc. to meet your own needs. Just use your imagination and a wonderful and snazzy gift can be customized for mom.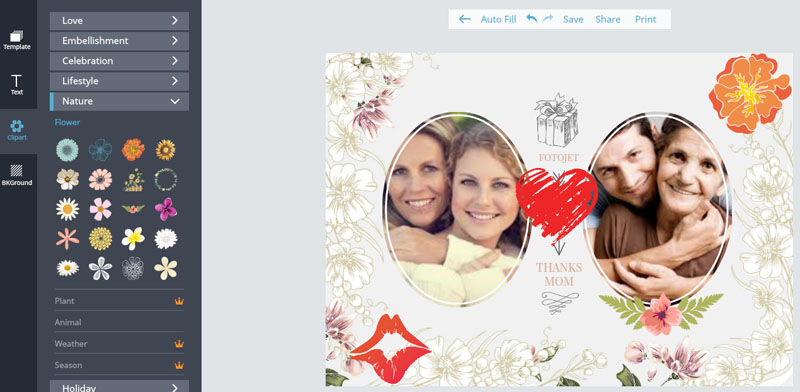 Step 4
Do you worry the background color cannot satisfy your mom? Follow me, there are considerable background for you to choose from, of course you also can use your own photo or picture as its background. Finally, save or print it out, and waiting for mother's day coming.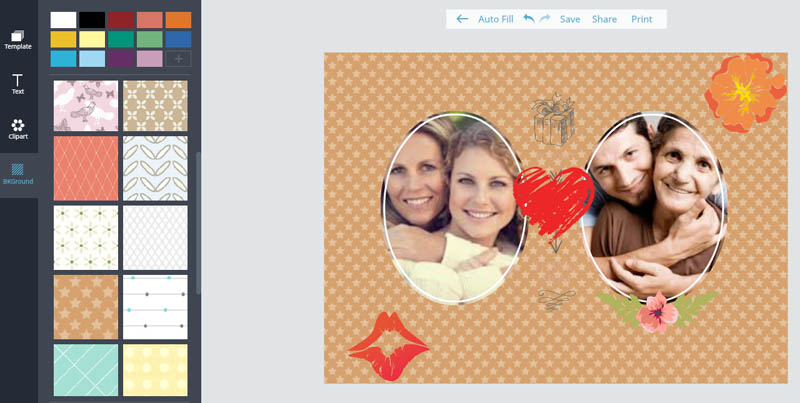 Now, the amazing mother's day card has finished, just keep it a secret and prepare a nice dinner for her on that day, present the beautiful card to her in a surprising way, and give her a big hug and kiss in the end. Do you think it's a romantic day both for you and for your mom?
Make a Mother's Day Card Online Now
Try it for free, no download or registration required.
Get Started