How to Make Easter Cards with FotoJet Effortlessly
Easter, which celebrates the resurrection of Jesus Christ from the dead, is one of the most important festivals for Christianity. It is popularly celebrated by the people around the world in several ways, designing Easter eggs, preparing a food feast or holding an Easter party. Making Easter cards is also a common way to honor this holiday. However, how to make Eater cards is a problem for someone who is not good at graphic design.
FotoJet provides numbers of well-designed templates that can enable users make Easter cards quickly and easily even if you are not a professional designer. The steps as followings can help you to learn how to make Easter cards.
Can't-Miss: How to Make an Easter Video >
1. Choose photos related to Easter
To make an Easter card, photos related to this festival are a must. The photos of the hours you spend with your families or friends on Easter Day, the presents and food you prepare can be chosen to make Easter cards. Then just find the Easter Card type of FotoJet to choose a template to start your design.
2. Edit the photo to make it charming
It is free to edit photos you add to the template. You can crop, resize and rotate photos. Tens of filters and other adjustments that can beautify the pictures can also be done. All these adjustments can also be applied to the images on the templates.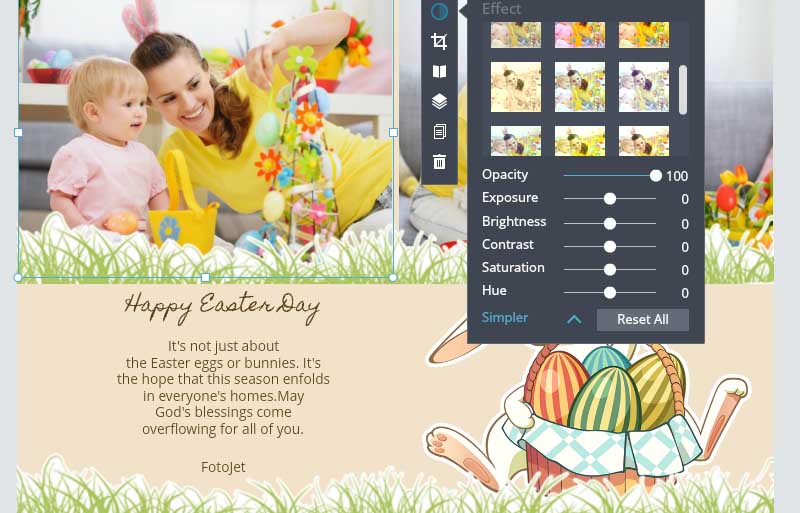 3. What to write on the Easter cards
Before you type something in the cards, you need to be sure about what these cards are made for. If you just make Easter cards for yourself, you can just write down what you feel. Input your best wishes if you want to make Easter greeting cards to the ones you love. It is necessary to write the exact time and place when you plan to make Easter invitation cards.
4. Adjust the text
To make the cards delicate, not only the photos, but also the text should be adjusted. To meet this need, you can make some adjustments to make the text shown in unique fonts, beautiful colors, different sizes, and special alignments.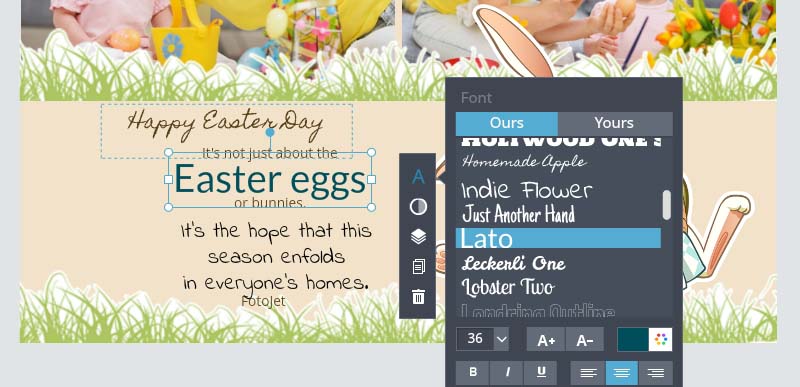 5. Change the background and add cliparts to Easter cards
FotoJet makes it possible to change the background of the template. You can choose pure color or upload your own pictures to replace the original background. What's more, there are hundreds of clipart images can be added to the design, including some cliparts specifically designed for Easter. Also these cliparts can be freely edited.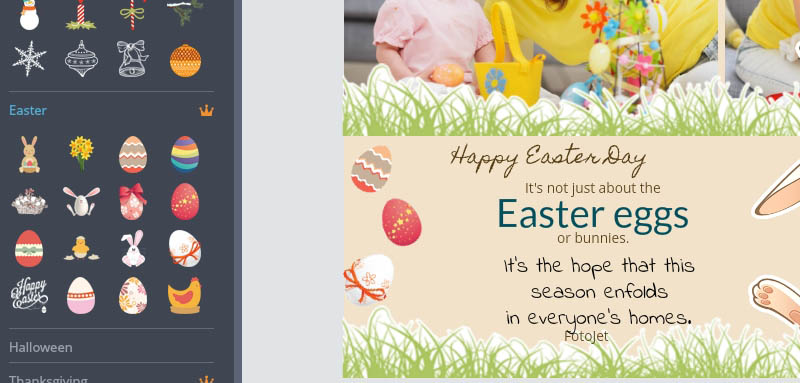 After all these steps above are finished, what you need to do is to save, share or print it out. If the Easter cards are designed for yourself to mark this festival, you can keep it or share it via social medias. If you intend to make Easter greeting cards or invitations, then send it away.
Have an unforgettable Easter!
Make Unique Easter Cards Online Now
Try it for free, no download or registration required.
Get Started