Customize Your Own Unique Wedding Invitation to Make It Stand Out
Unique wedding invitations not only invite and inform your guests, but also express your style and set the tone for your big day. So keep in mind that you can make your printable wedding invitations just as personalized as all the other details of your special day.
Whether you're looking to save money on your wedding invitations or simply love the idea of a DIY design, consider using FotoJet that never let you down. It is a totally free wedding invitation maker that enables you to create your own unique wedding invitations and make them stand out from any other invitation design. To make your design dream come true, click Get Started button now.
Step 1. Choose a wedding invitation template you like most
FotoJet gives you a quick access to get great design idea from its abundant of beautifully designed templates. Once you've found your favorite wedding invitation template, just double click it and then follow the second step to continue customizing it.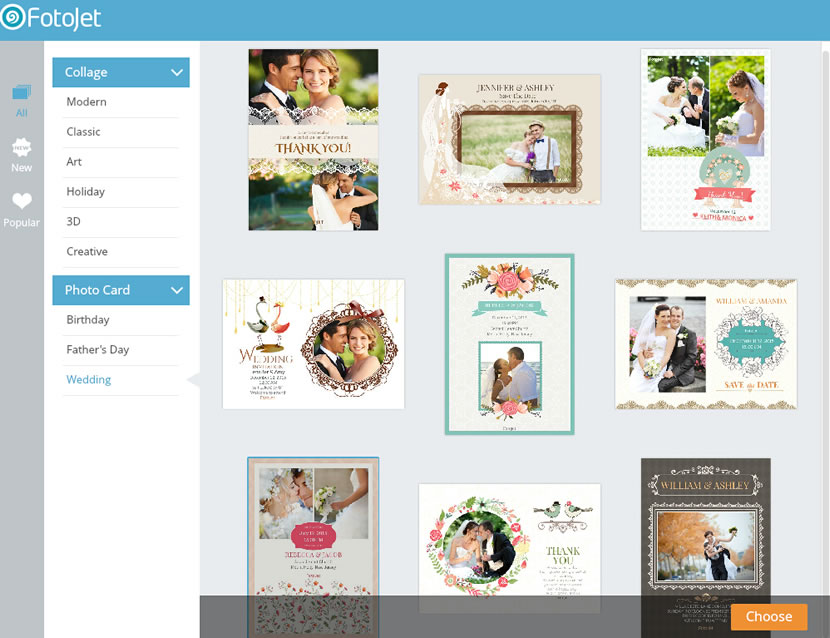 Step 2. Select your pretty wedding pictures and add them to the template
Some of your nice wedding photos may be stored on your personal computer while other beautiful pictures may be uploaded to your Facebook. With FotoJet in hand, you do not worry about it at all. It allows you to add photos from your computer or from your Facebook.
Simply click

button to select a method to add your desired wedding pictures into the photo list. Next drag and drop them to the wedding invitation template. After that, you may need to zoom, rotate, flip or mirror them to make them fit better with their own frames.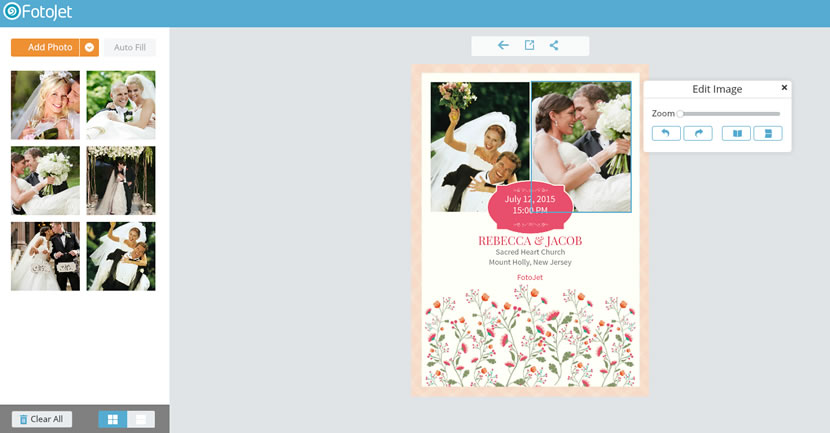 Step 3. Input all the details of your wedding day
One thing to note is that all the details of your wedding day must be clearly shown on your wedding invitations, including couple names, date, time, location or any other important information. Click the prewritten text boxes to input all your wedding details. Also, you can freely set text font, style, size, color and alignment on the Edit Text panel.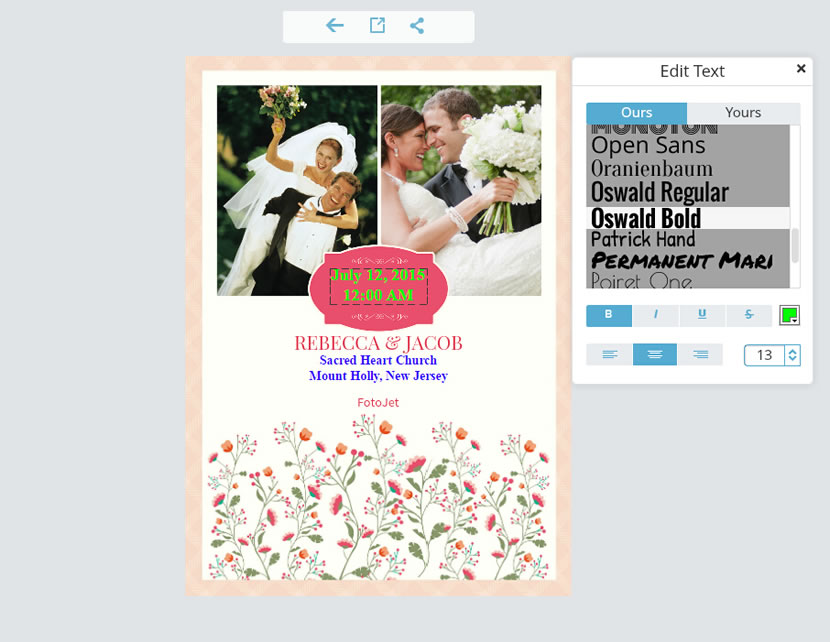 Step 4. Save your wedding invitation and print it out with your home printer
If your wedding invitation looks fine, click

button to save it to your computer in JPG or PNG format at will. Its name, quality and size can be easily done based on your own needs. After saving it to your local folders, print it out with your home printer and then send it to your guests to invite them to attend your big day.
By using this wedding invitation maker, you can perfectly finish your personalized printable wedding invitations in a few easy steps. Furthermore, it's totally free and you do not need to download or install anything. It's worth a try.
Design Your Own Wedding Invitations for Free Now
Try it for free, no download or registration required.
Get Started