Make Printable Wedding Greeting Cards Online to Congratulate Your Special Couple
Wedding in one of the most important occasions in one's life that deserves special wedding greeting cards. On your loved one's big day, a printable wedding greeting card you make yourself is more meaningful to the recipient.
By making a printable wedding greeting card with personal touch, your blessings and warm wishes will be sent to the couple in a unique way. If you're a little confused at where to start, FotoJet with a range of wedding greeting card templates is here for your inspiration. At a click of the Get Started button below, you will be guided to its unique collections.
Step 1: Choose a wedding greeting card template you like best
FotoJet prepares lots of perfectly designed wedding greeting cards. Once you clicked on GET STARTED button, you will be shown them. Click Photo Card -> Wedding and then browse all the wedding templates provided.
Double click on the wedding greeting card you decide or click the Choose button at bottom to open and customize it.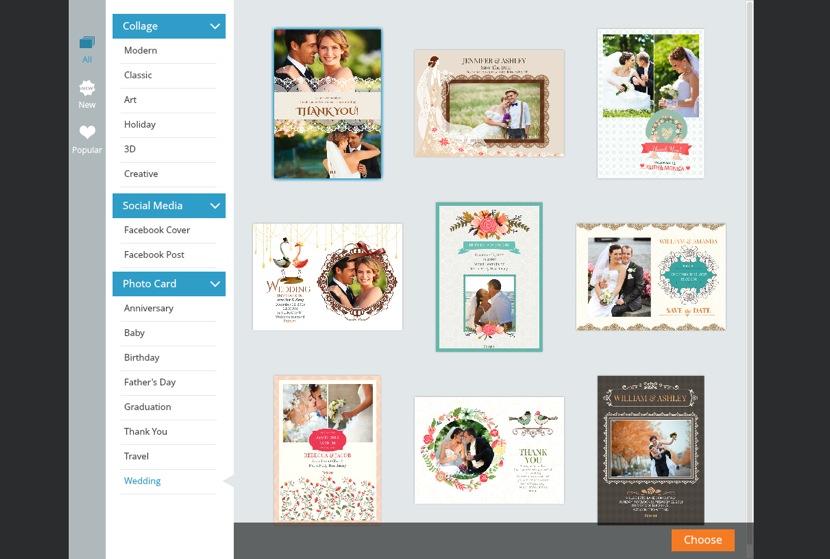 Step 2: Add photos of bride and groom to fill the wedding greeting card
When you opened a wedding greeting card template, the original photos on it will be emptied, which allows you to choose your photos to use. If you've stored the photos of the couple you are going to congratulate, directly click Add Photo to add their photos from your computer disk.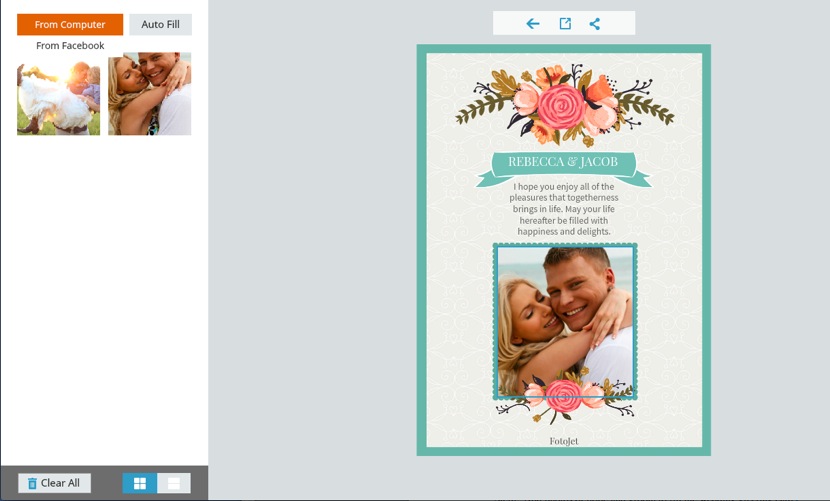 Your photos will be shown as thumbnails on the left photo list. Directly drag any one to fill into the wedding greeting card template. FotoJet allows you to make further personal retouch for your photos on the Edit Image panel, such as zoom, rotate, flip, filters and color adjustments.
Step 3: Write your personal wishes on the wedding greeting card template
If the pre-written text on the wedding greeting card template doesn't express you well, you can change it with your own special congratulation words to express your deep wishes. Double click on the text box and then you will be able to edit it at will. There is a vast array of text fonts and colors for you to choose on Edit Text panel. Text size, style, alignment can also be customized quickly.
Step 4: Save the printable wedding greeting card and print it with your home printer
When you've got your final satisfaction at the wedding greeting card, you can go ahead to click the Save button at the top of the screen to save it to your computer. After that, you can print it out with your home printer and send it to the couple. They will be so much surprised!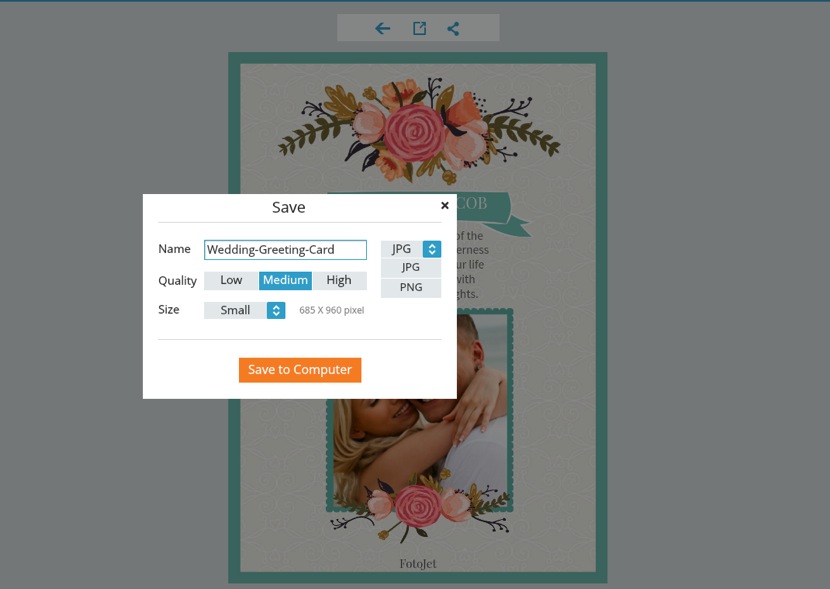 So why go out to the store and buy wedding greeting cards that won't make the couple receiving it as happy as they would be if the card were homemade? Try FotoJet with ease if a printable wedding greeting card is in need of being made!
Design Wedding Greeting Cards for Free Now
Try it for free, no download or registration required.
Get Started