Wedding Invitation Ideas: Personalized Wedding Invitations that Impress Your Guests
Wedding is one of the most important moments in a couple's life and the wedding invitations set the tone for the entire event and express personal style. If you are getting married, some inspirable wedding invitation ideas are great for you making personalized wedding invitations.
Purchase or Personalize
When some newly engaged couples find themselves in need of wedding invitation ideas, they typically suffer online for the ready-made invitations; some are very expensive. You know that preparing a great wedding ceremony will cost much. Ask yourself, "Would you like to save money on wedding invitations and still have professional look invites that will impress everybody who receives one?" Of course you would!
Instead of sending the same-old invitations purchased from online store, why not send something unique and original to your guests. The personalized wedding invitations will do well.
Personalized Wedding Invitations Handmade at Home
One great way to get a one-of-a-kind, perfectly personalized wedding invitations, is to make it yourself at home. It isn't difficult, saves you quite a bit of money and can be a lot of fun. You need to prepare some good paper, beautiful embellishments like ribbons, buttons, bowknots, etc.When it comes to the possibilities, the only limit is your imagination. You will get lots of handmade wedding invitation ideas here
Free Printable Wedding Invitations Made with FotoJet Card Maker
I know some of you will say, "Planning a wedding is time consuming. When will I have the time to make my own personalized wedding invitations?" or "I'm not a good crafter, how can I make sure to get a nice invitation after trying a very long time?" Simple! FotoJet will help.
FotoJet is your another option to design free printable wedding invitations. Thanks to its large collection of wedding designs, it's never been easier to create unique and memorable wedding invitations. Only in a few steps, you will get a free printable wedding invitation at hand:
1. Choose a design from lots of professional wedding templates. Find one that perfectly suit for your wedding theme; traditional, vintage, or modern, etc.
2. Add your wedding photos. Select one or two beautiful photos to use. To make your photos more stunning, apply popular filter or colors.
3. Insert wedding text. You need to add your own wedding info including names, date, time, address, etc. Don't forget that you are free to set different fonts, size, color and effects.
4. Save or share. You can choose to save your printable wedding invitation as an image and then print it out with your home printer.
Here is a personalized wedding invitation I made with FotoJet: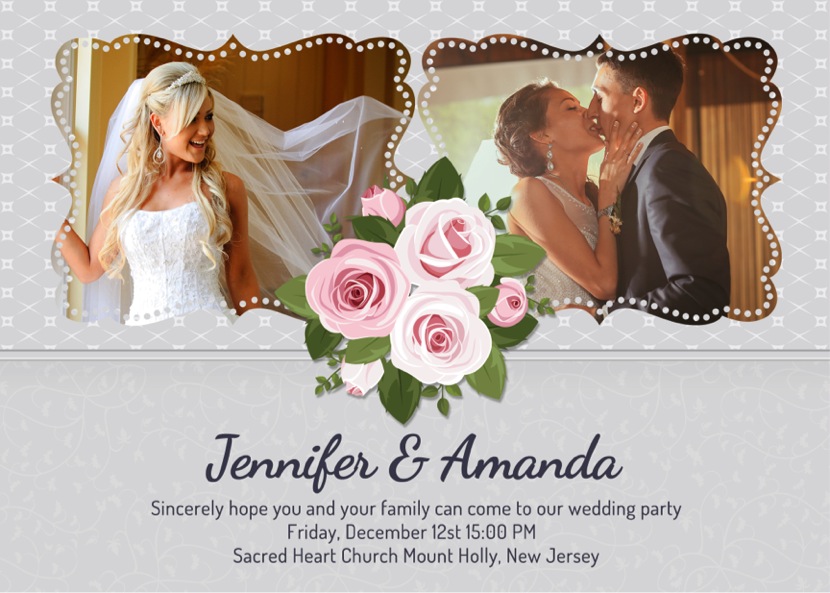 If you are the one couple that need a little invite inspiration, take a look at above wedding invitation ideas.
Tip: Be sure to send your invites 6-10 weeks prior to your wedding so that your guests have enough time to plan.
Make Personalized Wedding Invitations Now
Try it for free, no download or registration required.
Get Started