Free DIY Wedding Invitation Cards Online For Special Big Day & Anniversary
Foreword: We are about to free DIY wedding invitation cards online. The first part tells how to use free wedding card templates to design it. In the second part, we show how to create a unique wedding invitation card with an image, which is designing your own wedding invitations from scratch. And we make use of a free online wedding invitation maker to simplify the process.
It's important to make wedding invitation cards beautiful, since they play an irreplaceable role in symbolizing the marriage. Naturally, the expenditure on preparing wedding cards is handsome. However, it doesn't have to be expensive, and we are about to provide you with free ways to DIY wedding invitation cards online, e.g. invitations for engagement, Bridal Shower, Save the Date and so on. Whether making your own wedding invitations in a DIY, or designing email wedding invitations, you will find following tips useful and convenient.
Before starting, let's introduce the DIY tool that we will use, it is FotoJet's wedding invitation maker free online. You can access it by clicking the link: https://www.fotojet.com/apps/?entry=design
After entering the panel, choose [Invitation]>[All]>[Wedding] in sequence. Then you shall have FotoJet's wedding invitation maker in front.
DIY Wedding invitations with Ready-Made Wedding Invitation Templates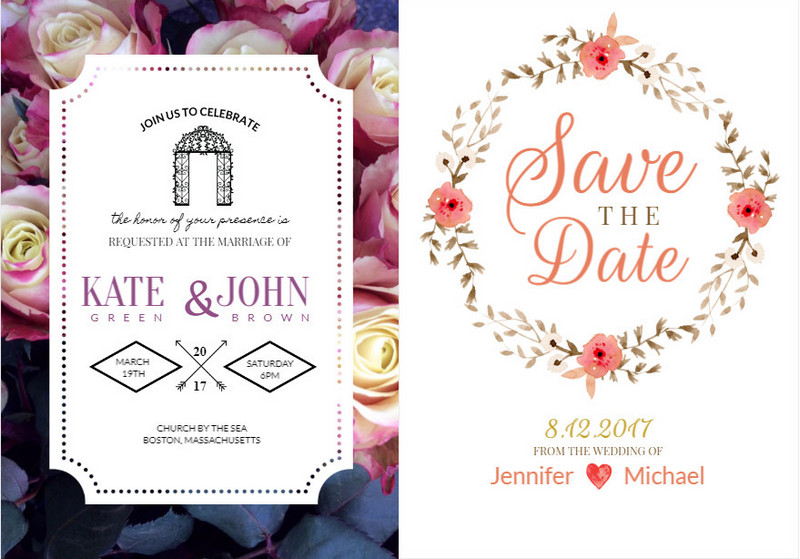 FotoJet's wedding invitation maker offers tens of elaborate wedding invitation card templates for your selection. For now, traditional wedding invitation templates, lovely anniversaries, elegant invitations and classic wedding cards are a big hit.
Scroll down the bar in wedding pane on the left to browse all wedding invitation cards. Click your favorite template to load it into the right window.
Edit Text in Wedding Invitation Cards
Double click on the text to edit. You can make use of [TEXT] toolbox to change its font, color and size in [Font] category, or to adjust the layer in [Property] and Opacity in [Effect]. Likewise, it allows users to delete and clone text for easy use.
Modify Wedding Invitation Cards' Clipart
Except for the texts in the templates, other elements are clipart. Select any clipart, [CLIPART] table will emerge. There in [Property], you are free to flip clipart, change its layer, make a duplication and delete it. In [Effect], it enables you to edit clipart's color under [Tint] & clipart's opacity.
Tips: FotoJet wedding invitation maker gives [Undo] and [Redo] button, which is flexible for editing. You can try any great idea without worrying about the consequence thanks to it.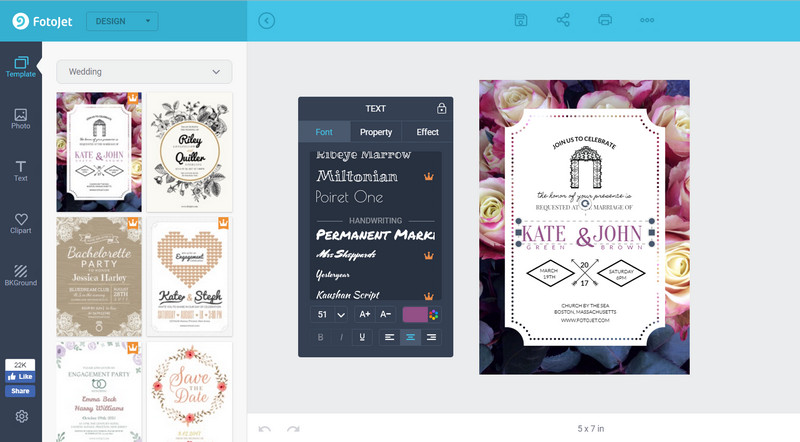 What if you can't find your preferable invitation cards in FotoJet's wedding card templates? No worry! Here are the advanced skills to make your own wedding invitations online free.
Do IT Yourself Wedding Invitation Templates
If you want to DIY wedding invitation templates with your picture, then the content below will give a helping hand.
It's necessary to know the sizes for wedding invitation cards when you design your own wedding invitations. For example:
1)Small card is 96 DPI (Mac is 72 DPI) in 480*672 px.
2)Medium card is 96 DPI (Mac is 72 DPI) in 750*1050 px.
3)Large card is 96 DPI (Mac is 72 DPI) in 1000*1400 px.
4)Extreme large card is 96 DPI (Mac is 72 DPI) in 1500*2100 px.
Tips: DPI here means PPI, which is short for Pixels Per Inch, and refers to the input resolution of a photograph or image.
To DIY wedding invitation card template with your photography as an envelope, we suggest you use the portal of FotoJet's Photo Editor: https://www.fotojet.com/apps/?entry=edit
Step1: Upload your images to FotoJet's Photo Editor there, rotate, resize and crop it to a right size for wedding invitation card.
Step2: Use [Text] to type informative contents, such as "You're invited to attend...", "Request the pleasure of your company", the date, the time, and etc. Then drag and drop it to a proper position.
Tip: You can type texts in a txt file beforehand and copy and paste here. It supports applying the same color to different texts by using a color code just to define the color scheme.
Step 3: Utilize clipart to decorate your DIY wedding invitation cards. In FotoJet's free wedding invitation maker, you can select clipart from FotoJet's clipart library or use clipart from the Internet.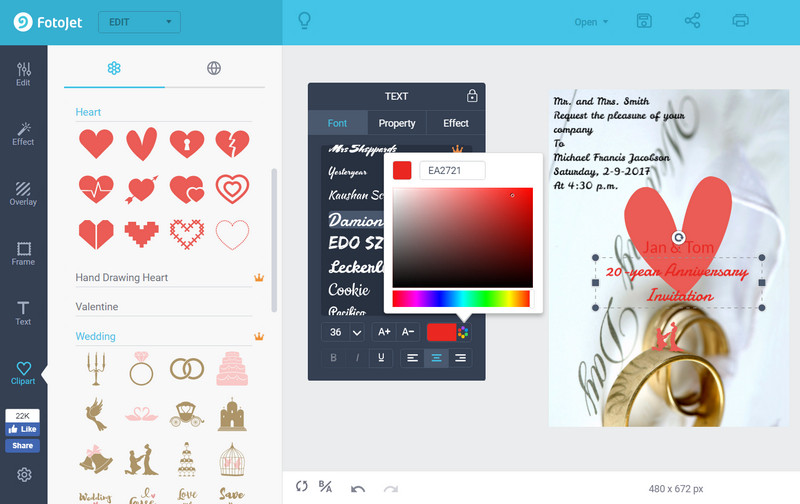 See, it's not that difficult to make your own wedding invitations templates.
How to DIY Electronic Invitations Cards with Wedding Cards Templates
With the help of FotoJet's free wedding invitation maker, it can't be easier to DIY an electronic invitations card for a wedding or an anniversary. All it needs are 3 steps:
1.Load wedding invitation card template,
2.Select to modify,
3.Save to a picture or save to a project.
In case you want to get an invitation card in png, it gives an option to output image in png as well as jpg. It's a practical online tool for DIY wedding invitation card free. The paperless invitation cards are perfect for email wedding invitations. If you prefer, you can still print them out and send wedding cards to friends via mail services in real life.
Design Stunning Wedding Invitation Cards Online Now
Invites for free, no download or registration required.
Get Started