Make Wedding Anniversary Cards by Yourself with Free Online Photo Editor
Tomorrow always comes. It's may be a normal day or a special day like wedding anniversary. Wedding anniversary cards should never be absent from the day.
Have you ever met the situation?
Get up as usual; wash yourself though eyes did not open at all. Suddenly, something occur to you that today is your wedding anniversary. You are not bleary-eyed anymore and plans are coming into your head, for you have been preparing for today so long. You have booked a table, bought the gift, and roses of course. You cannot wait to see her face when she found everything you have done. There is time before she wakes up. You check things because you want everything to be perfect; however, you still feel something is omitted. The wedding anniversary card! How could you forget it? You bought the cards for wedding anniversary every past year. The story goes here. Have you met the same situation? You prepare everything except a small card, a card that represents you love and wedding anniversary wishes? Is there any solution to it? The answer is yes. And you can not only to solve the problem but also can turn it a better way of love and expression.
FotoJet can help you out. The online photo editor has templates of wedding anniversary cards. It can finish printable wedding anniversary cards in several simple steps. Add your wedding anniversary wishes on, and then you can print it at home.
Let us do a wedding anniversary card:
1. Enter www.fotojet.com , click "GET STARTED", you will see the template page. Click "Anniversary" on the left of the page, and templates shows on the right. Choose your favorite one and double click it.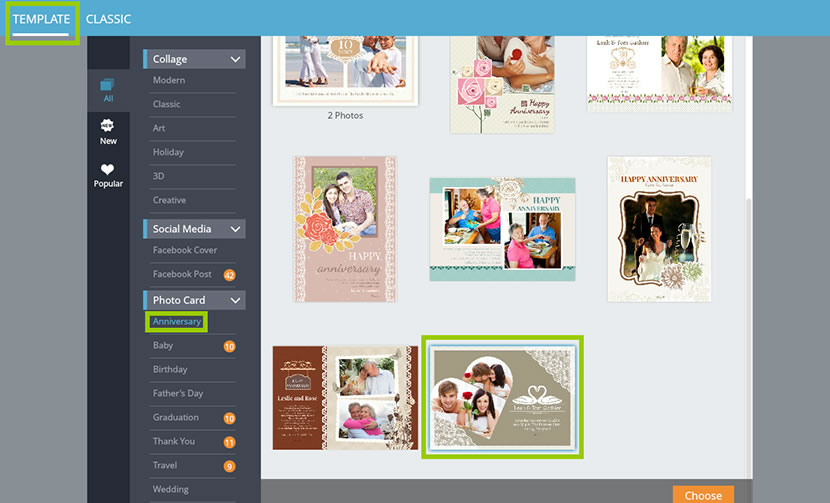 2. Choose photos form computer or your Facebook, drag into the edit area and position them to look best for you. You also could fix poor lighting, unsuitable size etc with the options on the "Edit Image" panel.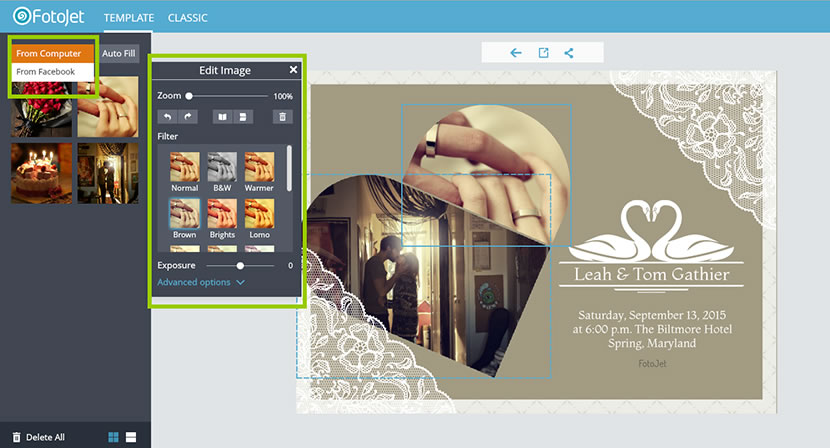 3. Do not forget your wedding anniversary wishes. Turn them into words and put into the textbox. You could change the fonts and the color of the text on the "Edit Text" panel.
Then save it to computer or share to you social media.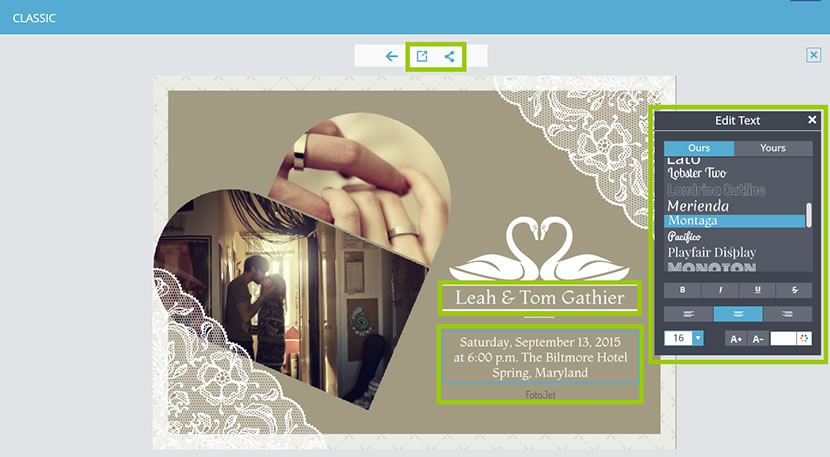 If you are someone who want the wedding anniversary cards to be simple and classic and be full of your affections, do not hesitate to clicking "CLASSIC", left-top of the page, to display your own creativity.
Choose the layout according to the number of your pictures. Play around with the options in the bar.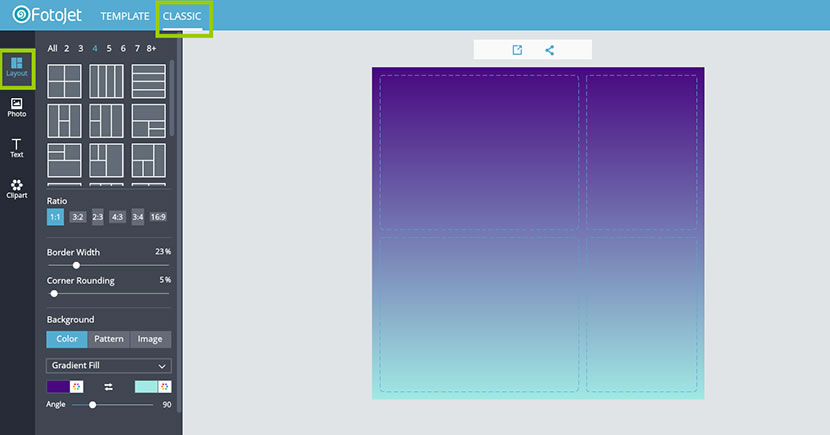 Add photos and position them, add a little effect if you like.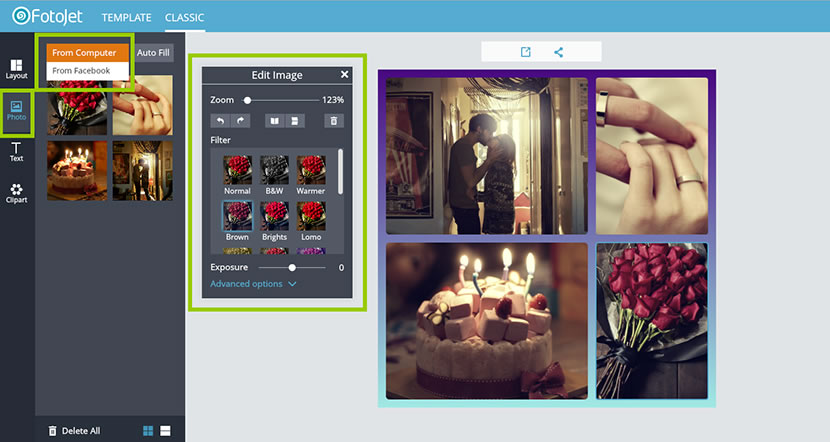 Put your words on the photo.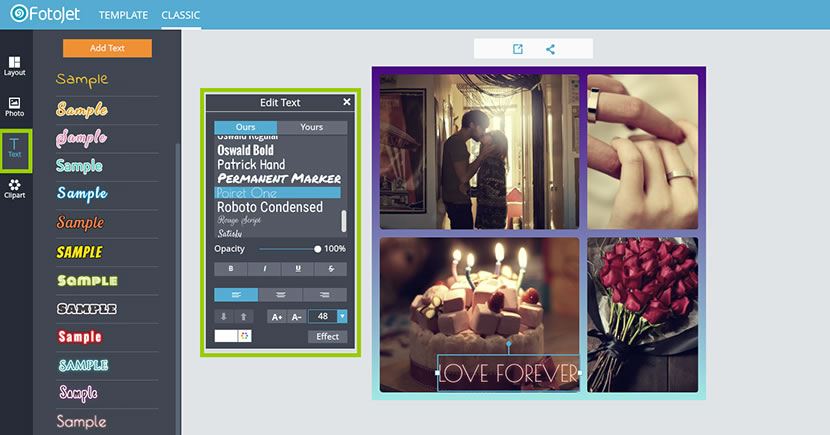 There are hundreds of clipart for you to unleash your creativity further. And remember to save or share it.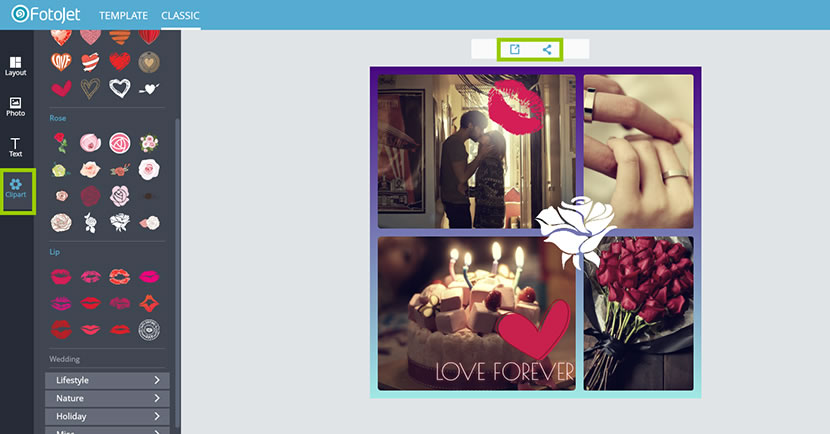 The printable wedding anniversary cards are done! Solve your problem perfectly, and the cards made on your own step by step can tell more, don't they? What are you waiting for? Print them and enjoy the special day with your fere.
Make Wedding Anniversary Cards Now
Try it for free, no download or registration required.
Get Started