How to Edit Photos Online with FotoJet
FotoJet is an all-in-one graphic tool, its editor can be used to crop, resize, rotate, straighten, exposure, sharpen, dehaze, vignette and tilt shift photos. It must be a great helper to edit your photo. Now let start to learn how to edit photos online with FotoJet like a professional.
Open www.fotojet.com in your browser. On the homepage, click the button EDIT or Edit a Photo.
Step one
Open a photo. There are two ways to you to upload photo, you can upload it from computer or from Facebook. Click Open button in toolbar on the top of the page and then choose to open photo from computer or from Facebook.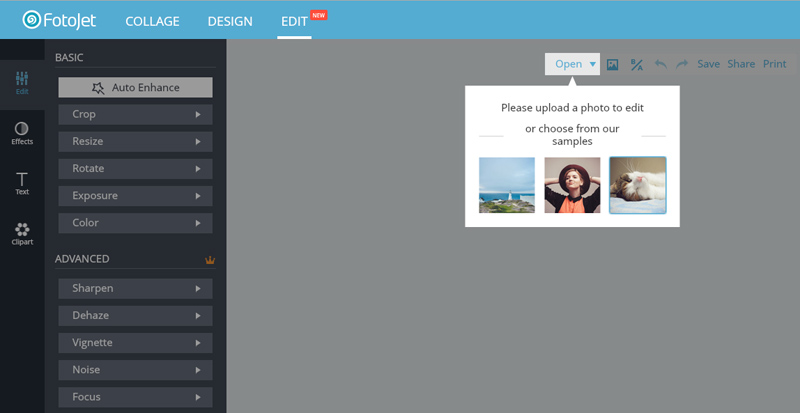 Step two
Start some basic edit. Click Crop button on the left side bar to crop your photo, there are a few ways provided for you, just have a try to find the most suitable one. After you adjust the crop box to specify the area of the photo you wish to keep, just click Apply to save the changes. You can crop it by Freeform, Original Ratio, Golden Radio, 16x9, 4x3, and 3x4, also you are allowed to directly input the value you need in the input box to crop your photo.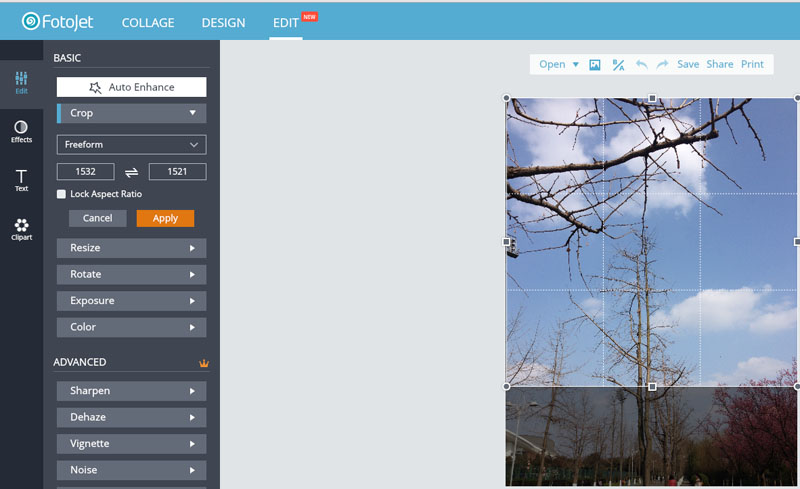 Move to resize. Here you will learn how to resize a photo, just try all the ways provided to resize your photo to the one you like.
After then, you can also to rotate your photo if you need. You can rotate it by 90 degree clockwise, 90 degree anti-clockwise, horizontally or vertically. At the same time, you can drag the Straighten slider to adjust the photo in various angles.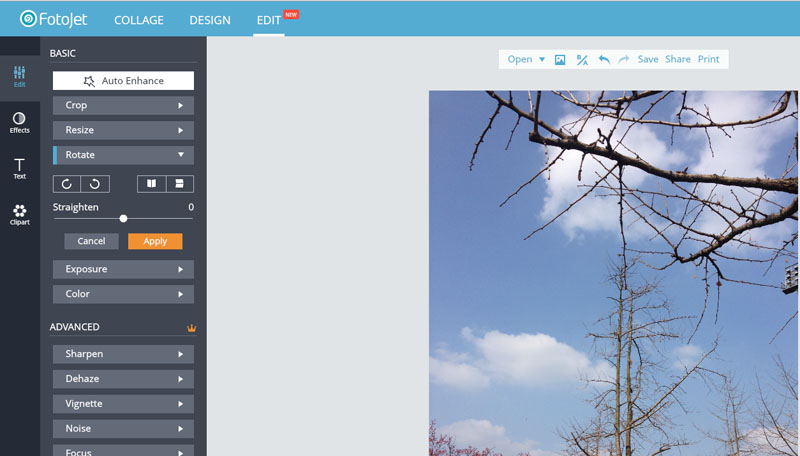 What's more, you can adjust the exposure and color of your photo. Just click them off, and drag the bars to edit photo.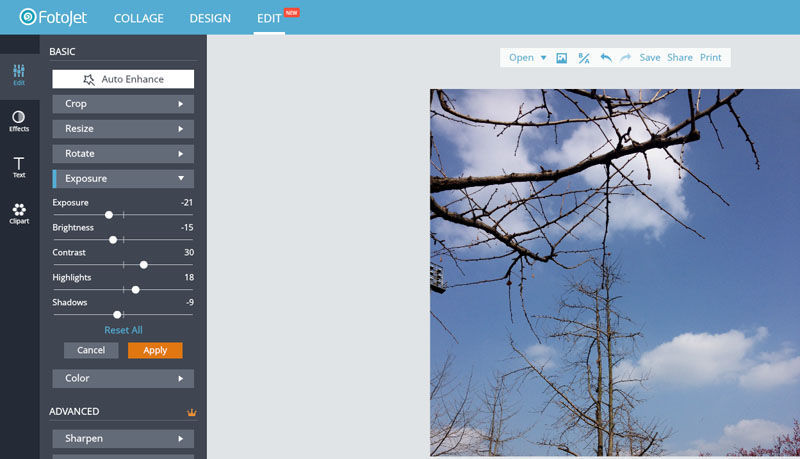 Click Apply to apply all the changes, or click Cancel to exit all of them.
Step three
Let's move to ADVANCED options. Here you are able to sharpen, dehaze, vignette, noise and focus your photo. All these options can be finished just by drag and click. The easy way can help you edit your photo like a professional. Click these options off one by one to adjust your photo, once you adjust one, just click Apply to save the change. I believe these options can give you clear understanding of how to edit photos like a professional.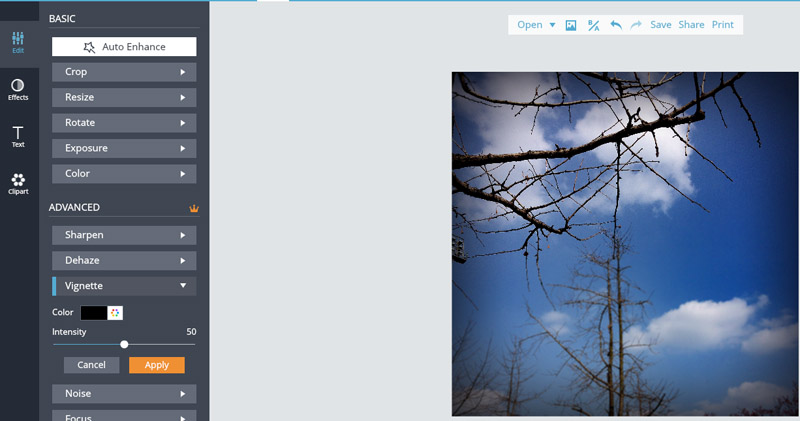 Compared with other picture, this one is more beautiful. And all the changed like what a professional does. Do you find this is an easy way of how to edit photos online? What's more, this made you like a professional.
Step four
Add some effect to your photo. Move your mouse to Effects button, there are plenty of effects can be used. Click off the effects list, to find the one you like most, and preview it. If you decide to use it to modify your photo, just click Apply to save it.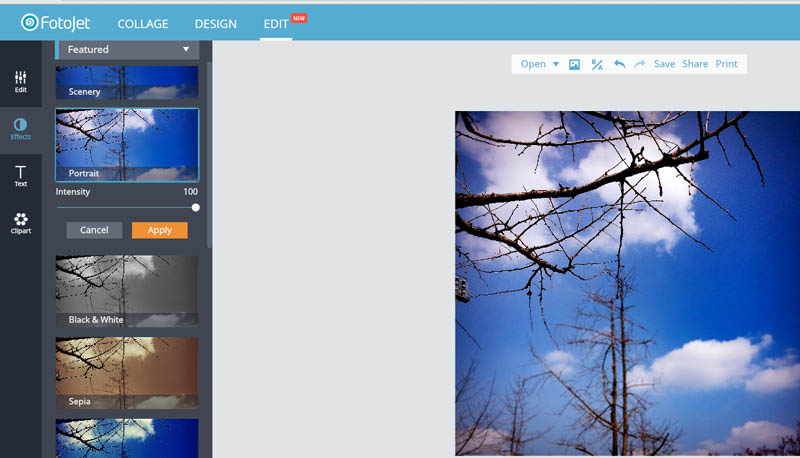 Is this made your photo more wonderful and professional? I think the answer is yes. Do not hesitate to have a try. Just open FotoJet to learn how to edit photos online.
You can add some text or clipart to pretty photos if you want. Click TEXT button, to choose the sample to want to use, and then type your own words in. next give it some adjustments, such as size, color, position and so on, you can add outline and glow to it.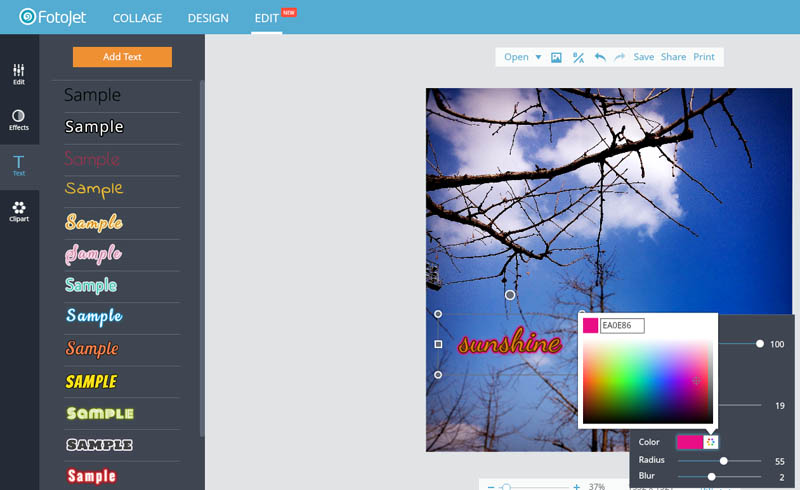 There are several categories clipart, such as Embellishment, Celebration, Love, Life Style, Nature, Holiday, etc. Click those you like to add them, and then give them some adjustments. The way to add clipart is similar to add text. Try it now.
This could be a different one from the original photo. Get started, all the options will help you get closer to the way of how to edit photos like a professional.
Once completed your photos editing online, have you ever considered to make them into a stunning photo slideshow with music? You can try FlexClip's free online slideshow maker directly. Or you just want to export them to your mobile phones to enjoy anytime or anywhere. All you need is AnyTrans, which is a one-stop photo transfer enables you to selectively transfer photos seamlessly or move all content to your iPhone iPad by 1 click, just try it now for free if you are interested.
Edit Photo Online Now
Try it for free, no download or registration required.
Get Started