How to Make Thanksgiving Cards
Most of us say "thank you" daily and feel natural to say it. However, for special situations, when we want to say thank you formally, it is different and, sometimes, even difficult. So, Thanksgiving cards made by yourself seem to be nice gifts for thanking people. But how to make Thanksgiving cards by yourself?
We can express that we do not tell about on usual on a card. With buying cards being such a common form of Thanksgiving cards, personal-made cards are more valued than ever. Taking time to acknowledge someone's kindness or giving will be more meaningful to them.
This article will help you to know how to make Thanksgiving cards online. With the help of FotoJet, you can easily make a Thanksgiving card. FotoJet, the free online photo collage maker, has hundreds of templates used for different situations, including Thanksgiving Day.
There are new Thanksgiving card templates just being added to FotoJet. You can use our free tool-card maker to send your gratitude.
How to Make Thanksgiving Cards Online
Find the "Thanksgiving" category on the template page. Choose one template you like best and double click it or just click the "Choose" button.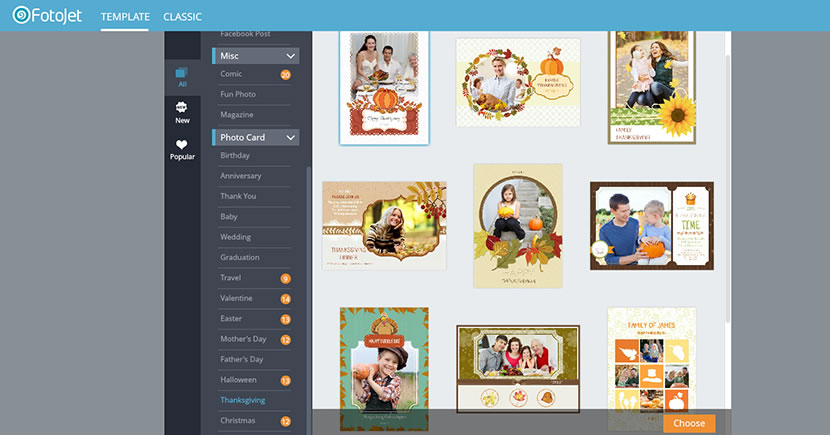 After you choose the template, you will meet the editing page. Add photos you would like to use on the card. Place the photos the way you like best, maybe you would like to add a little effect to you photos too, just play around with the effect potions.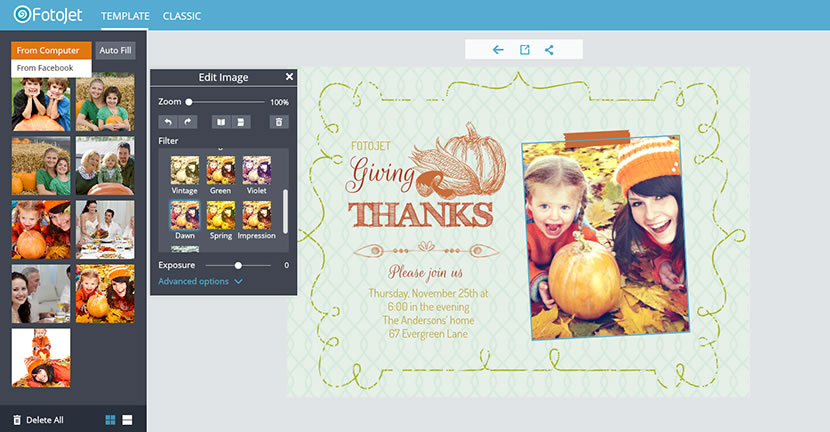 Now, just be yourself and be specific to express your gratitude. There is no need for a long lead-in as you might do in a letter. Just let the one know right away what you are thanking them for and describe it thoughtfully.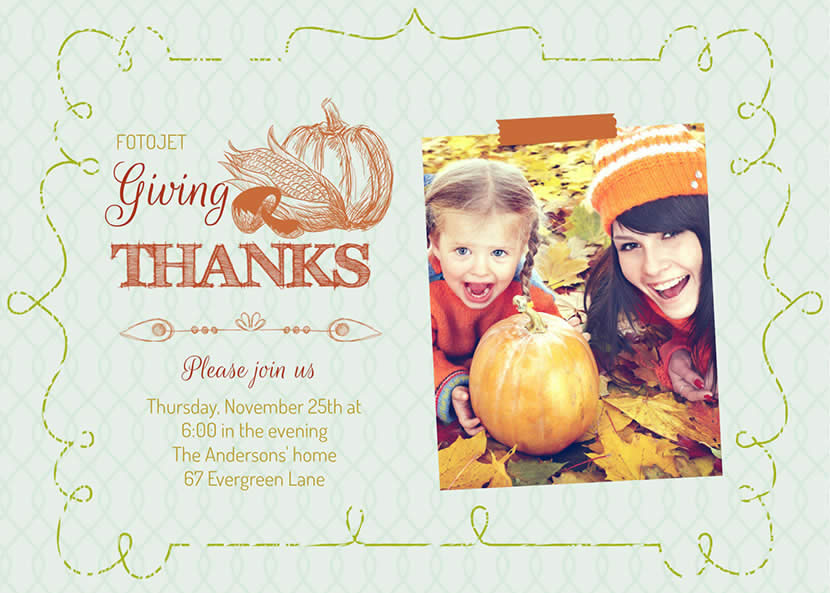 What to Write on Thanksgiving Cards
There may be a situation when you want to say thank you by writing it down, however, you just cannot think out the sentence that satisfies you.
Let the ideas about what to write on thanksgiving card help you:
Simply grateful for special people like you.
Your help was such a blessing.
Thankful, appreciative, grateful…that's me because of you.
Thanks for all your special (caring) ways.
So lucky, so happy, so grateful for you.
Thank you for taking the time to be so thoughtful.
Could you have been any nicerf? Don't see how!
Thanks for thinking of me in such a special way.
Thanks…it was wonderful…just like you!
You're a real sunshine-bringer!
You totally "out-niced" yourself!
Gather the family around table this holiday and express your gratitude with your thanksgiving card!
Design Your Own Thanksgiving Cards for Free Now
Try it for free, no download or registration required.
Get Started