Make Fake Magazine Covers with the Free Online Tool
How to Choose Tools to Make Fake magazine covers
Ever want to make a fake magazine cover with your own photos on it? There are many sites offering templates of fake magazine covers, free or not. It must be better that the tool is gratis and doesn't need to download. A desktop tool needs time to download, install and learn how to use. This should take a couple of hours if you are doing it for the first time.
So, I prefer online tools more than desktop tools. The former one allows you to create fake magazine covers within minutes. What's more, it saves your time. All you need is a photo and a reliable internet connection.
If you are a user of FotoJet before, you will find the new category of "Magazine", you could create a fake magazine cover as you make photo cards and something else before. If you have never used FotoJet, don't worry; just go on with this article.
In this article, I will show you how to create a fake magazine cover with FotoJet. And you will find out it is really simple and fun.
How to make a fake magazine cover
FotoJet offers 15 fake magazine covers from "TIME" to "BAZAAR" and much more. Broadly speaking, the process to make fake magazine covers can be summarized to this: visit the website, select the magazine, upload your photo, adjust its position and save it locally or share to your Facebook.
Enter www.fotojet.com, you will come to first page of the site, easily get started by clicking the "GET STARTED" button.

Click the "Magazine" in the category bar; simply select the type of magazines.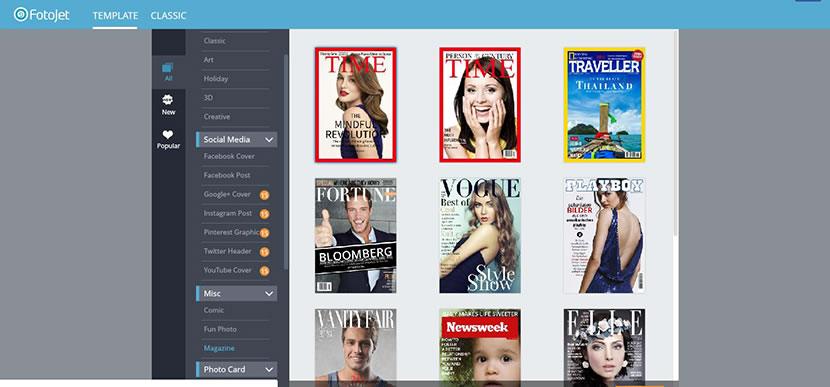 Upload the photo, drag it to the edit area and position it the way you like. Add a little effect or just choose some options on the "Edit Image" panel to make your photo look best.
If you want the content to fit your photo, edit the text on the magazine. Besides, you could change the colors and the fonts of the text except the magazine name.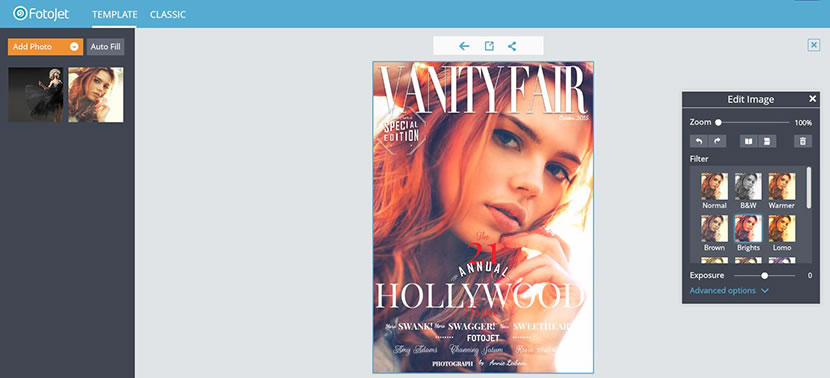 How simple it is to make a fake magazine cover with FotoJet! And it can not only make fake magazine covers but also can make photo cards, Facebook covers and so on.
Go check it and create your arts.