Create a Printable Father's Day Card
Your father can read your disappointment, suffering, pain, fear and doubt in your eyes even if you don't show any sign of worry. He is always there to encourage your heart and help you understand that he's sufficient for all of your needs. What a great man he is! With Father's Day coming soon, it's your turn to make him laugh heartily, tell him how special he is to you and show how much you love him.
Struggling to figure out where to get Father's Day gift ideas? Wondering what to make for your dad this Father's Day? Nothing says "I love you, dad" like a homemade gift from the heart! So express your heartfelt love with your warm printable Father's Day card that can let your dad know what he means to you. Now directly click Get Started and start your creation for free with Fotojet that enables you to quickly make amazing Father's Day gifts for your dad, grandfather, uncle or any other men who is important to you.
Step 1. Choose a Father's Day card template to get design inspiration
You will be presented with various delicate templates accordingly on the template page. Next click Father's Day tab under the category of Photo Card to choose your favorite Father's Day template by directly double clicking or by simply clicking the Choose button at the right bottom.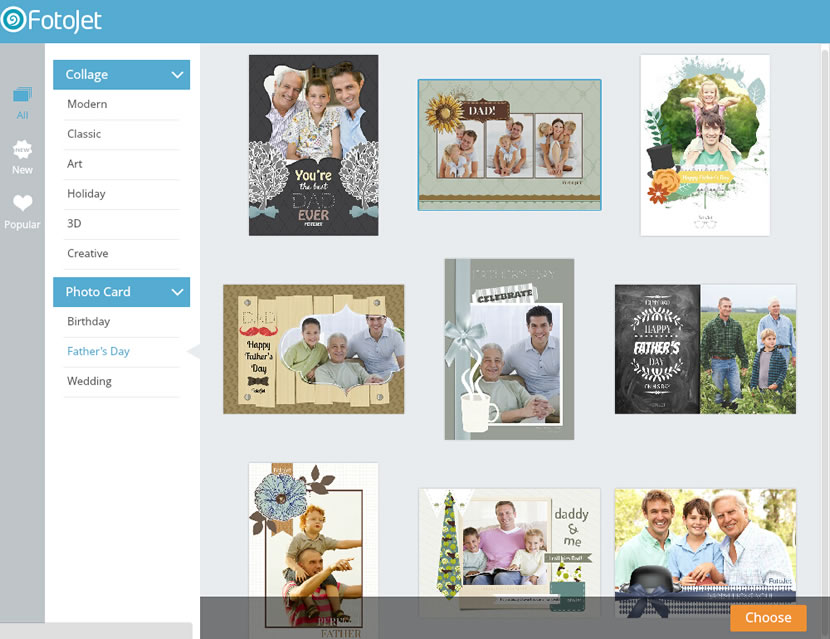 FotoJet gives you an option to browse the latest and most popular templates by respectively clicking

and

. You will definitely get awesome Father's Day gift ideas from this free online collage maker that helps you save precious time and money.
Step 2. Add pretty photos both of your dad and you
No photo in your card is imperfect. Be sure to send your dad a personalized Father's Day card decorated with some beautiful photos that records the sweet memories with him in daily life.
Click Add Photo button to add your desired photos that are fully filled with fun, laughs and grins from local folders to the photo list. Also, you can add photos from your Facebook by clicking

on the right side of Add Photo and choosing From Facebook. Click

and

icon in the lower left corner, you can freely preview your added photos in one column or in two columns. Next, simply drag and drop them to the edit area.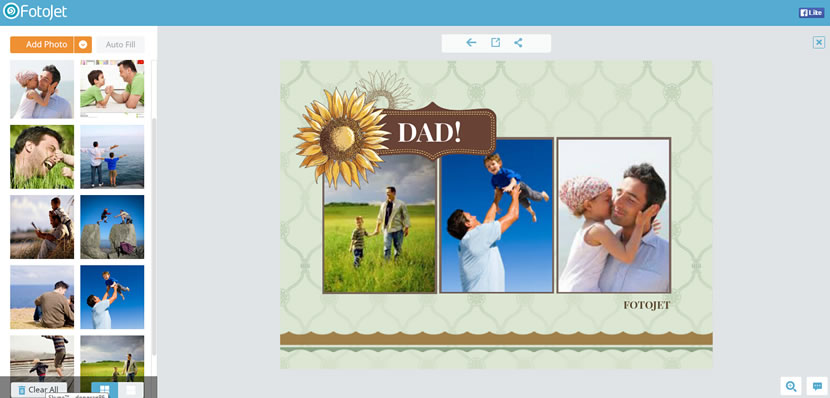 One thing to note is that it always requires some adjustments onto photos to make them fit better in their own frames. Select a photo you want to retouch and then grab the slider to zoom in/out on the photo to get your satisfaction on the popup Edit Image panel. You also have an access to rotate, flip or mirror them at will.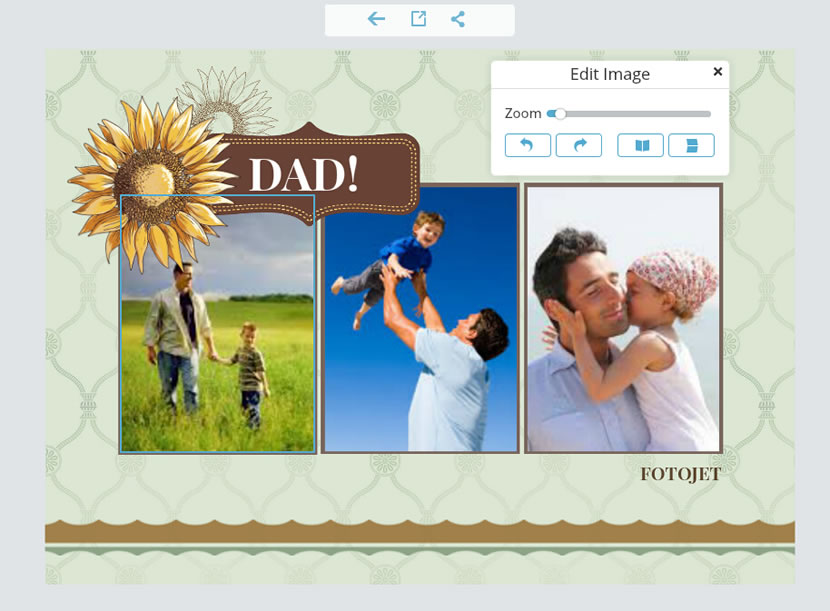 Step 3. Add any message you want to say into your card
A perfect card always needs some sweet messages as well as wonderful pictures. Your dad deserves to be recognized for his hard work, love, care, security and support he gives to you. So do not hesitate to show your love and adoration into your card.
Click the existing text box on the template and then directly input your own words like "I love you, Dad", "Thanks, my dear dad" or any other words of gratitude you want to say.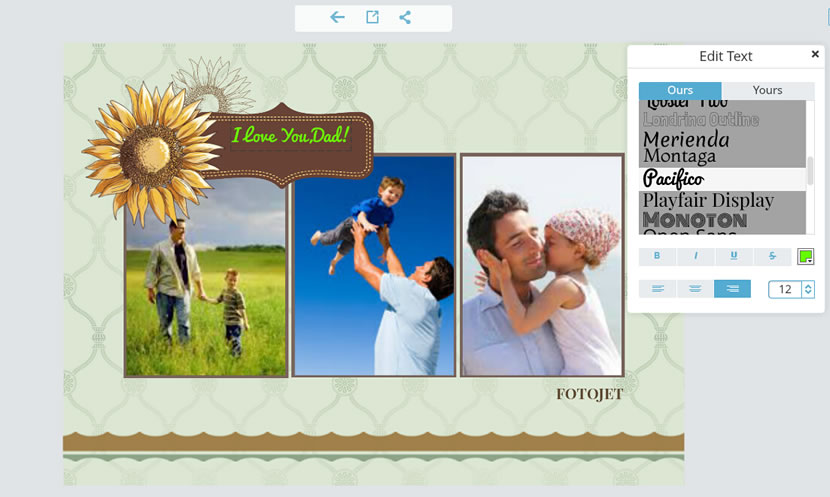 You can consider applying text settings on the Edit Text panel to make your messages even more expressive and striking like choosing text font from Ours library or Yours, setting text format as Bold, Italic, Underline, or Strikethrough, applying a specific color, setting text alignment, inputting the size properties or directly choosing a desired text size in the size combo box.
Step 4. Save your card and print it out with home printer
After perfectly finishing all these steps, it's time to save your card in JPG or PNG format at will. Here you are free to input your card name, choose the output quality and set a proper size for your artwork. Then, print it out with your home printer and sent it to your father who will treasure it for years to come since it's the best Father's Day gift that he has ever received.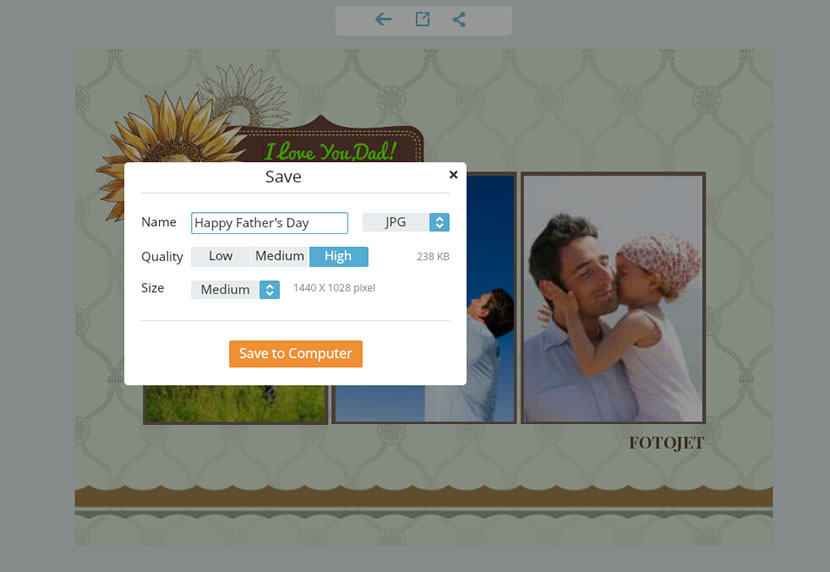 Can't wait to surprise your dad with wonderful Father's Day gifts? Let him enjoy his day to the fullest by sending him an amazing printable Father's Day card filled with pretty photos and sweet wishes. Now get some cool Father's Day gift ideas from FotoJet and start your creation with the simple 4 steps mentioned above.
Make a Father's Day Card for Free Now
Try it for free, no download or registration required.
Get Started