How to Design Instagram Account for Business and Personal Brand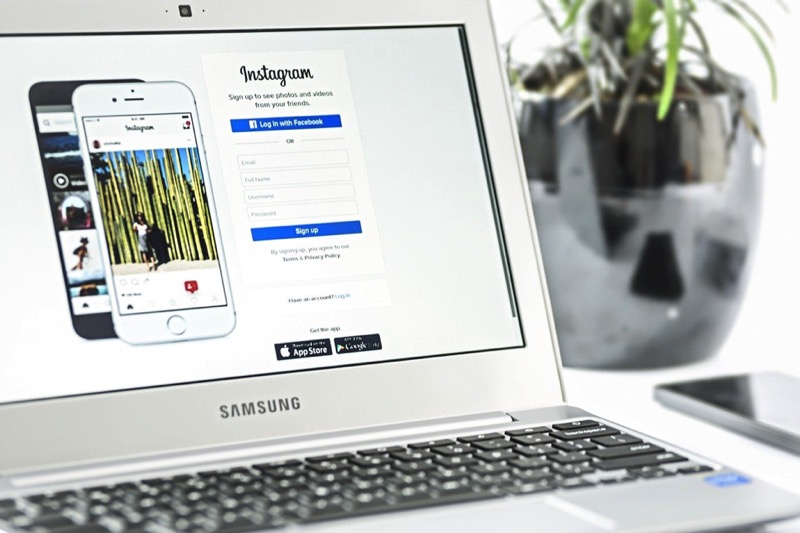 More than 500 million daily users reach Instagram in search of entertainment content or some products or services. The social media platform has grown into a real commerce giant where you can try various online marketing techniques, engage with your audience, and boost your profit. There is no surprise in the fact that a growing number of brands join the platform to promote their new deals or to simply establish better contact with the audience. However, the more brands create Instagram accounts, the harder it gets to be noticed. A well-designed and masterfully structured Instagram profile can help you make your personal brand or a large corporate project a success.
Keeping this in mind, let's see how you can design a profile for personal or business purposes to promote it successfully on Instagram.
How to build a personal brand on Instagram
When it comes to growing a personal brand on Instagram, it's important to think about the topics that you will highlight in your posts and the main message that you would like to deliver to your followers.
At fotojet.com, you can find lots of impressive opportunities to create catching graphic designs and collages for free. Do you need to edit your photos so that they would look more stunning and appealing to your followers? You can apply all the needed adits online, without the need to download and install the software on your PC.
Of course, when it comes to personal or business promotion, it is all focused around the visual content. If you are only taking your first steps promoting your personal brand, then you can make use of pre-designed social media templates that are ready to be used on your own social media page. Just customize them, add some text in the description, use some tags, and you are ready to go.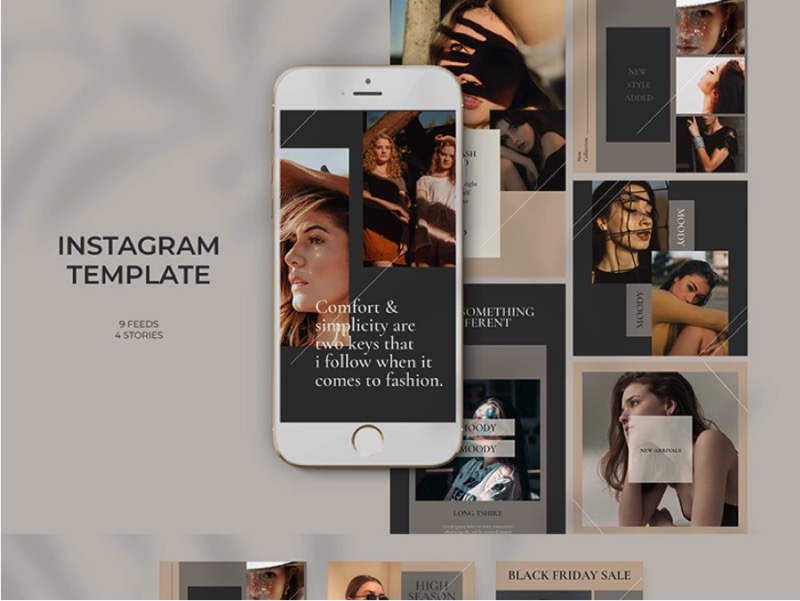 You can also use ready-made bundles of graphics, fonts, typography, and other design tools that you can use in your Instagram profile for personal use or promotional campaigns. MasterBundles offers an impressive collection of visual content that you can use for personal or business purposes. There are bundles of high-quality visuals matching different topics and micro-niches. The prices are more than affordable. If you subscribe to their newsletter, you will be among the first users to be notified about new pro campaigns and giveaways. So, you can grab stunning graphics at no cost.
Be yourself
Be authentic when you decide to establish and promote your personal brand on Instagram. Being yourself is one of the most effective techniques in online marketing. Luckily, there are plenty of ways of being authentic on the social media platform. What are the most popular types of pictures that you can find on Instagram? These are selfies, right? Taking and posting a selfie is one of the ways of being authentic.
You can also take pictures of your daily activities, your sports classes, the food that you like to eat in the restaurant, etc. There is no such thing as a wrong post for your personal brand page on Instagram.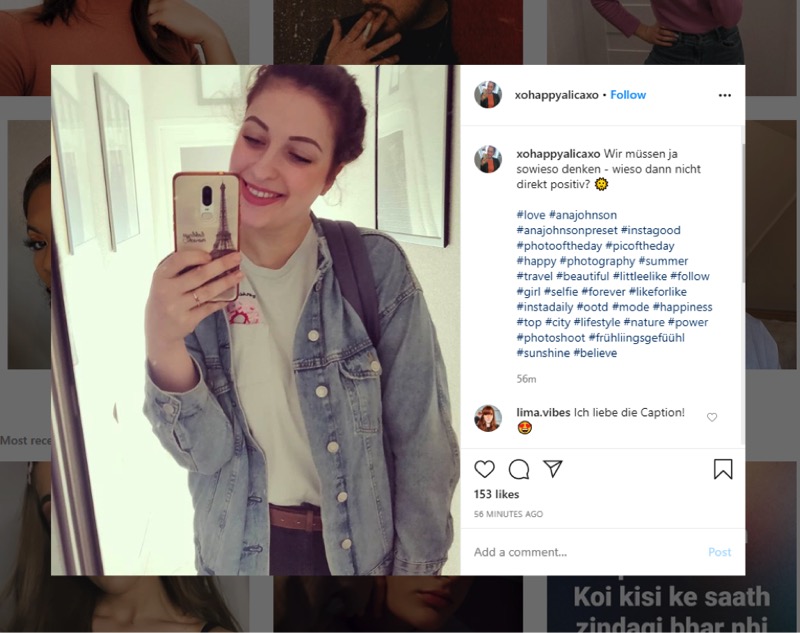 @xohappyalicaxo
Keep the main theme with your posts
When using Instagram for personal branding, it's important to pick a topic and keep stick to it. For example, if you are a food blogger, most of your publications will be about cooking food, new recipes, exotic products, etc. If at some moment you decide to try something new, then you can make a shift and combine posting articles on two topics in the same account. For example, this can be food blogging combined with some travel tips.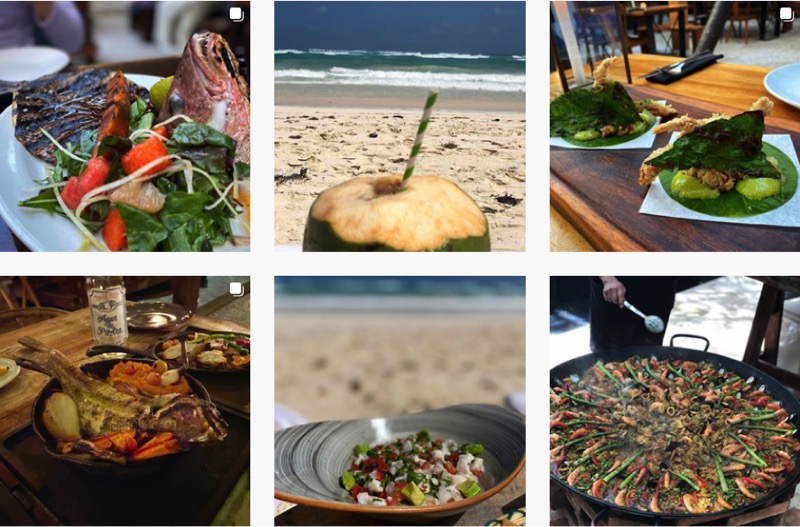 @steak.and.matcha
Invite users to your site or blog
If you have a blog or a personal website, then you can drive more people to your web resource as you give a link to it in your bio section. Unfortunately, Instagram doesn't let you add links below your blog posts, you can invite users to check the link in your bio. If you don't have a website yet, start with visualmodo or Boxmode to create the site you want now.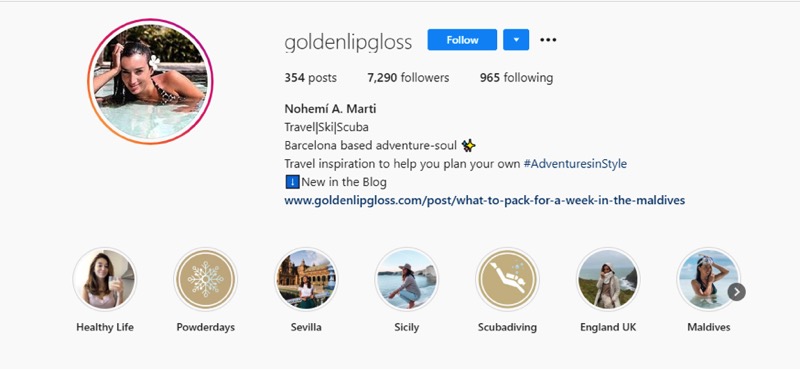 @goldenlipgloss
Use geotagging
Geotagging is one more way to drive more users to your Instagram profile. It takes you only a few seconds to add a geotag to your post, however, the effort is always worth it. Geotagging grows the chances that your content will be shared by popular restaurants, parks, hotels, etc. When your audience sees where you are, they are more likely to reach you out and connect with you.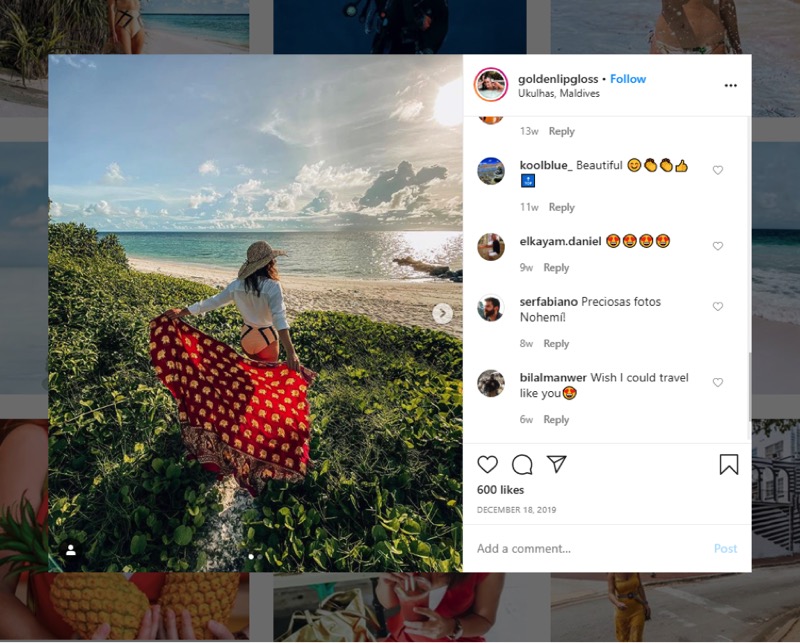 @goldenlipgloss
Reply to all comments
Social media is all about communication. On Instagram, people can leave comments below your posts. When you see comments on your profile, it means that you have reached a certain level and people expect feedback from you. So, whenever you see that someone comments on your post, respond to it.
Tag brands with a large following
Don't be selfish when other brands ask you to promote them on your page. A brand with a large following may regram it, thus bringing more users to your profile.
How to promote business on Instagram
When it comes to the promotion of your business on Instagram, it's important to make your account public. This will make it visible to everyone who's registered on the social platform. If you are creating a business account, then that's what you want - to let the maximum number of users see your offers and check your brand info.
Recognizable @username
First of all, then using Instagram for business purposes, you need to make your name searchable. The best way to set up a username on Instagram is to use your business name there.
● To edit @username, go to the page and find the Edit profile button placed to the right of your profile photo.
● Then, click on the text or open space to the right of the person icon and enter the desired username.
Profile picture
Instagram profile picture is the first thing that people see when they do the advanced search and visit your Instagram profile. This should be a prominent image that is both easily recognizable and something that would make your brand stand out from other businesses.
For companies - this can be your logo.
Informative bio
After the catching profile photo, the descriptive informative bio is what your visitors will come to see. Instagram sets the limit of max 150 characters for the text in bio. So, you need to think carefully about what kind of information is the most valuable and can present your business at its best. Also, bio is the only place on Instagram (except for stories) where you can place a link. As a rule, companies insert the link to their official website or blog.
By updating the URL in bio, you can better engage your followers. A notification about the update can appear in descriptions of your Instagram posts. For example, if your company releases a new video on YouTube, you can add the link in bio and invite users to watch it. Additionally, you can post a notification in Instagram Stories and attach the link there as well.
High-quality photos
Instagram is all about sharing high-quality visual content. This is where the first impression matters. When people visit your profile, images are what they see first of all. Texts below your images come next. The quality of your visual content will be a big factor that influences a user's decision of whether or not he will follow you. So, if you do not have anything impressive to post, it's better not to post at all.
Additionally, you need to choose an Instagram theme that would add an authentic look to your business account. Having a consistent Instagram feed will help you achieve better aesthetics on your page and create a long-lasting impression on your followers. @starbucks does it impressively well.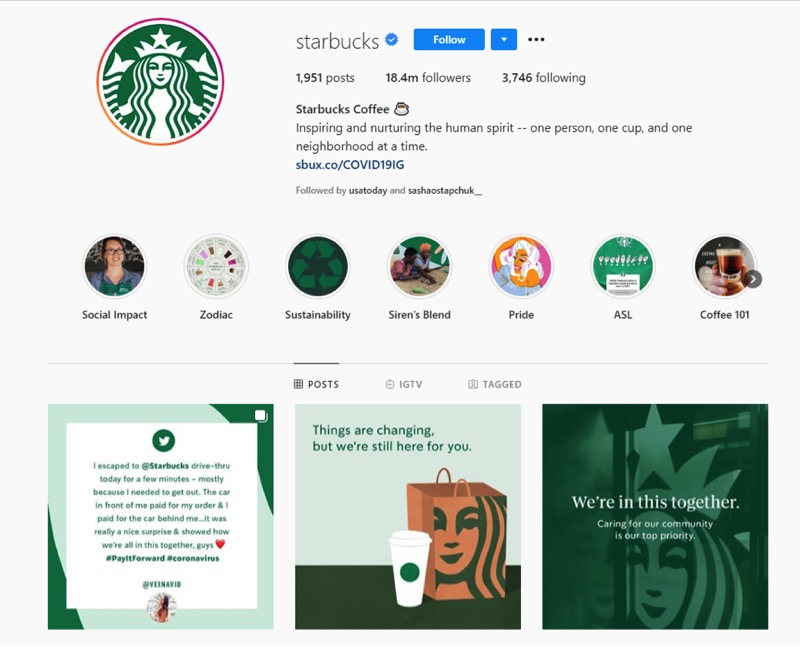 Wrapping up
You can achieve impressive results with Instagram, but you need to do things right. The world's leading social media platform offers a bunch of opportunities to promote your personal brand or large corporate project. When combining stunning visual data with engaging texts, you can grow the public interest in your project and gain wider exposure. I hope that the tips described in this post will come in handy to you and you will achieve the maximum results with your Instagram campaign.