Flower Clipart
Free flower clipart images
Adding flower clipart images is undoubtedly a good idea to beautify your creations, no matter what kind of photo designs you prefer to make. FotoJet, with a great number of flower clipart images, provides an easy way to beautify your designs to show it in a delicate style.
GET STARTED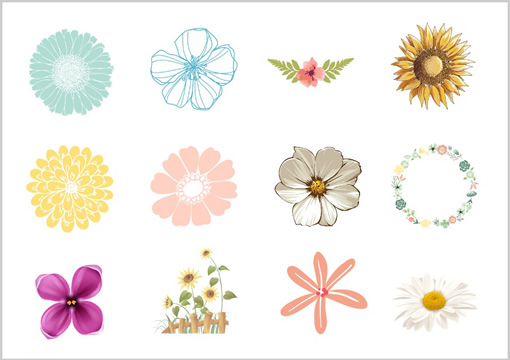 Beautiful Flower Clipart Samples
There are so many colorful clipart images of different flowers for you to select. It can definitely inspire more creative ideas to embellish your designs.
What Can You Do With FotoJet Flower Clipart Images

Decorating your photo designs with some fair flower clipart images is a wonderful idea to show your photo design in a unique way. And the effects of all these clipart images like Opacity, Contrast and Saturation can also be edited to fit your designs well.
Make Photo Designs with Clipart Images in 3 Steps


Choose Template
Choose from hundreds of templates to start.


Edit
Add photos and edit your design with flower clipart images.


Save/Share
Save your photo design as image or share it online via social media.