Publisher Plus for Mac
A powerful desktop publishing software on Mac that allows you to create awesome printable flyers, poster, brochures and business cards.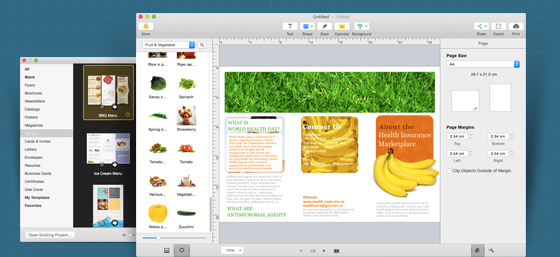 A fully-featured and user-friendly desktop publishing and page layout application specially made for novice and experienced users.
- From Softpedia Editor
Abundant Templates and Resources

More than 170 professional templates for flyers, brochures, business cards, newsletters, calendars, posters and many free template packages are provided. All of these templates can be freely customized with preset and online clipart, 230+ background resources and 40+ frames & masks.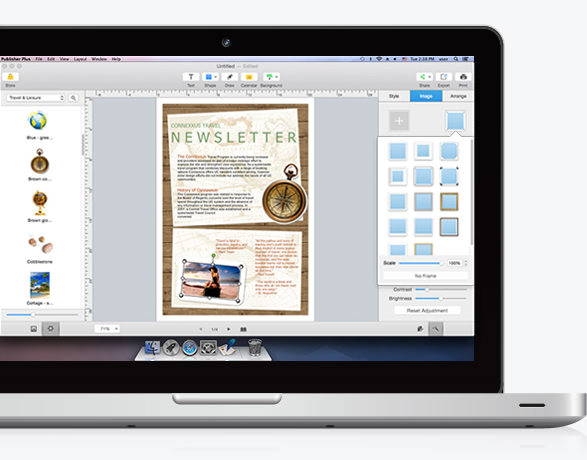 Powerful Page Setup Options

You are allowed to customize the page size, orientation (landscape/portrait), and page margins freely. It's also possible to create and edit multiple pages one time.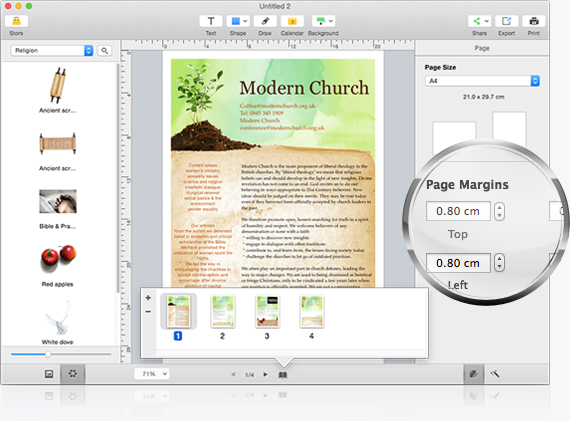 A Variety of Objects for Professional Design

Add photo objects in various formats (JPG, TIFF, PNG, GIF, PDF, EPS, AI, SVG, etc.) from iPhoto or local folders; Insert and customize clipart, text, shape, and calendar objects. All of these will help expand the possibilities of desktop publishing.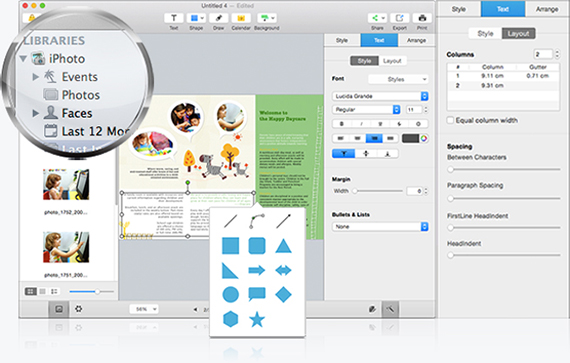 Advanced Editing Tools

You can set up styles for various objects and apply with one click, which gives you a quick way to save your favorite styles for repeated use. With powerful editing tools, you can crop, resize, rotate, flip & mirror an object at ease; add color fill, stroke, shadow or reflection effect; align, lock/unlock, group/ungroup, undo/redo, copy/paste objects; and manage layers of different objects.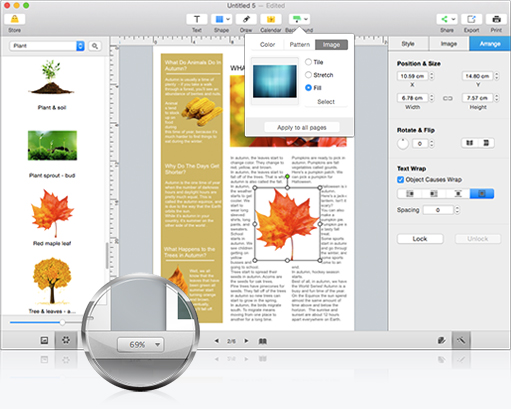 Export, Print and Share Your Design

When you've finished your work, you can export it as PDF, JPG, PNG, TIFF, BMP and PSD; print it directly or share via Email, Message, Airdrop, Twitter, Facebook and Flickr.