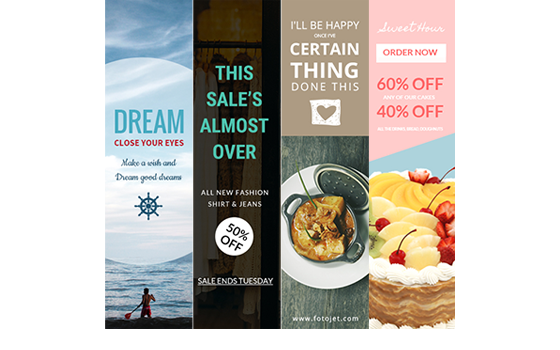 Wide Skyscraper Banners
Design 160 x 600 banners Online!
A wide skyscraper is a 160 x 600 banner ad that shows on the left or right of a webpage. To make the wide skyscraper ad effective, it is vital to convey your message and product info with a professional looking design. FotoJet's banner ad maker has preset a collection of templates for you, the only thing you need to do is simple clicking and editing to get an awesome banner ad.
GET STARTED
Plenty of Templates of Wide Skyscraper Banners
Whether you want to promote your website or product, you can always find a template to customize it to your own. With these professionally designed templates, you will find your own inspiration to design wide skyscrapers.
What Can You Do With FotoJet Wide Skyscraper Banner Maker
FotoJet allows people who own business, websites and anyone else to design wide skyscrapers without difficulties. It is as easy as selecting a template and changing the text, images, backgrounds etc. to design a 160 x 600 banner in FotoJet. All you need is a great idea and the desire to create a design. Explore FotoJet and start designing your banner ad now!
Design Wide Skyscraper Banners Online in 3 Steps


Choose a Template
Choose from dozens of 160 x 600 banner templates to start.


Edit
Add photos and customize your wide skyscraper banner freely.


Save/Share
Save your wide skyscraper as image or share it online via social media.